Take a Moment and See Stunning Animal Photos from Around the World
Written by: Nicole Caldwell
Daniel Botelho // Barcroft Media via Getty Images
Stunning animal photos from around the world
Disclaimer: When you buy from links on our site, we may receive a commission at no additional cost to you.  Learn more
Around the world, animal species have been put at risk from diminishing habitat, climate change, poaching, overfishing, deforestation, and pollution. Elsewhere, certain species multiply unabated without any natural predators to keep populations in check. From air to sea, Stacker scoured thousands of images to find 50 stunning animal photos from around the world.
Some are in their natural habitats, others live in cities or on game preserves. Many are at risk of extinction, while a few have populations on the rise. From grazing Tibetan antelope to migrating monarch butterflies, these 50 photos of wildlife around the world capture the staggering grace of the animal kingdom. The forthcoming gallery runs sequentially from air to land to water, and focuses on birds, land mammals, aquatic life, and insects as they work in pairs or groups, or sometimes all on their own.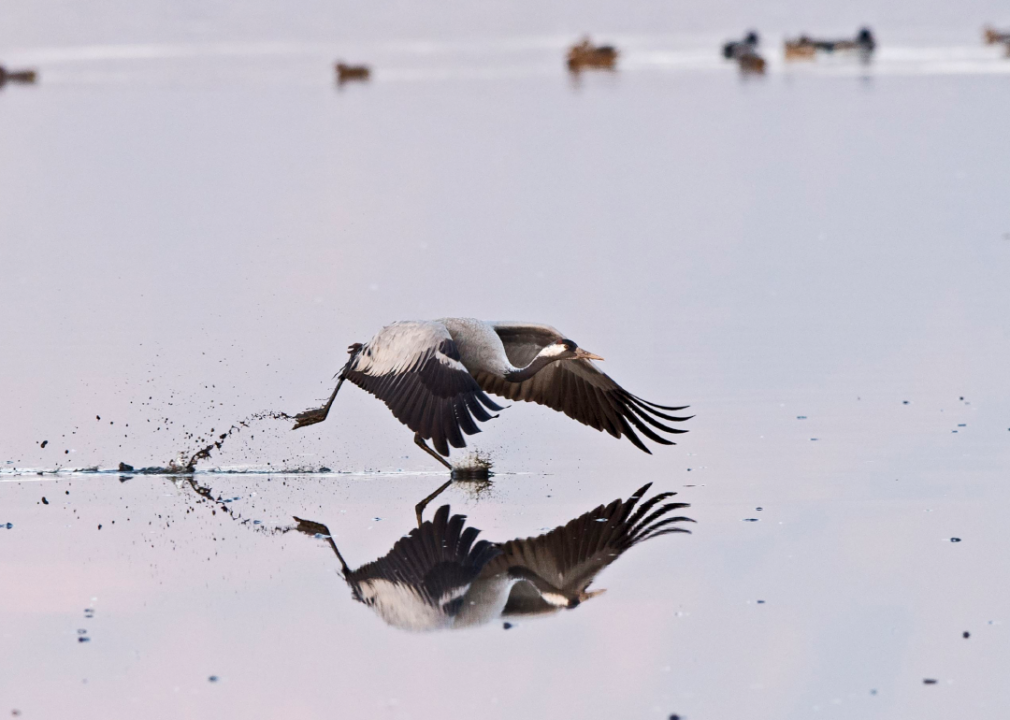 David Tipling/Education Images/Universal Images Group via Getty Images
Cranes winter at Hula Lake
Hula Valley in Northern Israel is a recently restored ecosystem drawing hundreds of millions of birds through the valley. The common cranes are one of the most notorious migratory birds arriving in the tens of thousands during the fall months on route to Africa. Feed is placed out to by the Agamon Hula Ornithology and Nature Park to deter the visitors from harming the local crops.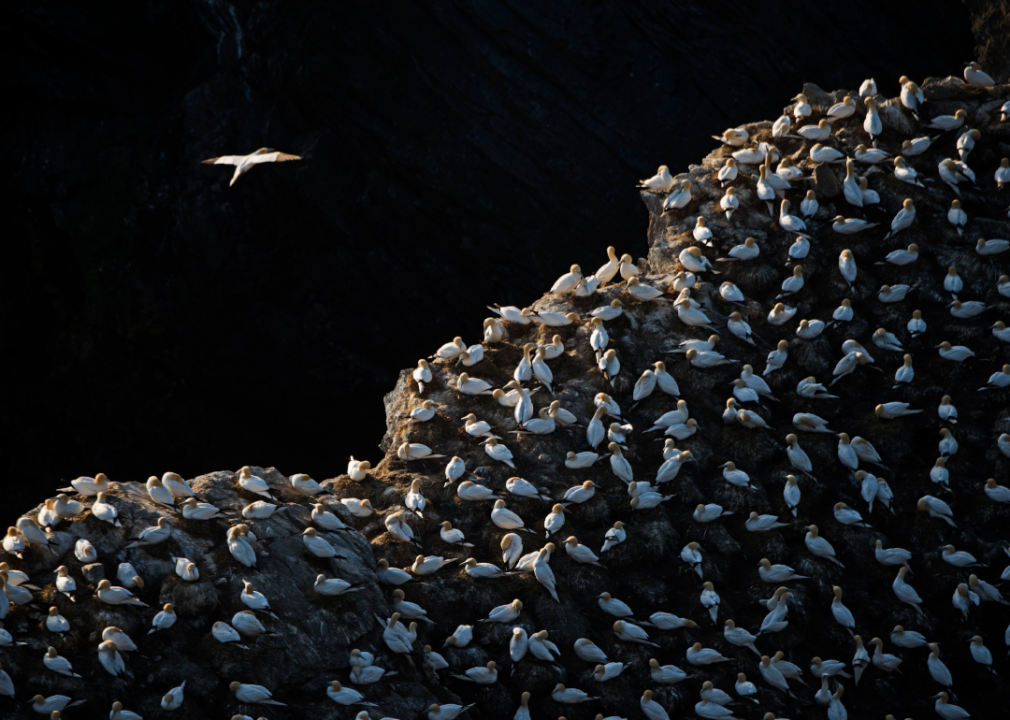 Education Images/Universal Images Group via Getty Images
Seabirds in Scotland
Northern gannets (pictured here at Unst Island in Shetland, Scotland), are large, migratory seabirds known for their high-speed plunge dives. The seabirds can be found on either side of the Northern Atlantic. Scotland is home to Europe's largest population of northern gannets, with Bass Rock serving as home base for the largest colony, with upwards of 150,000 of the 5- to 7-pound birds. In October, gannets head south to the West Coast of Africa and beyond, returning as early as February.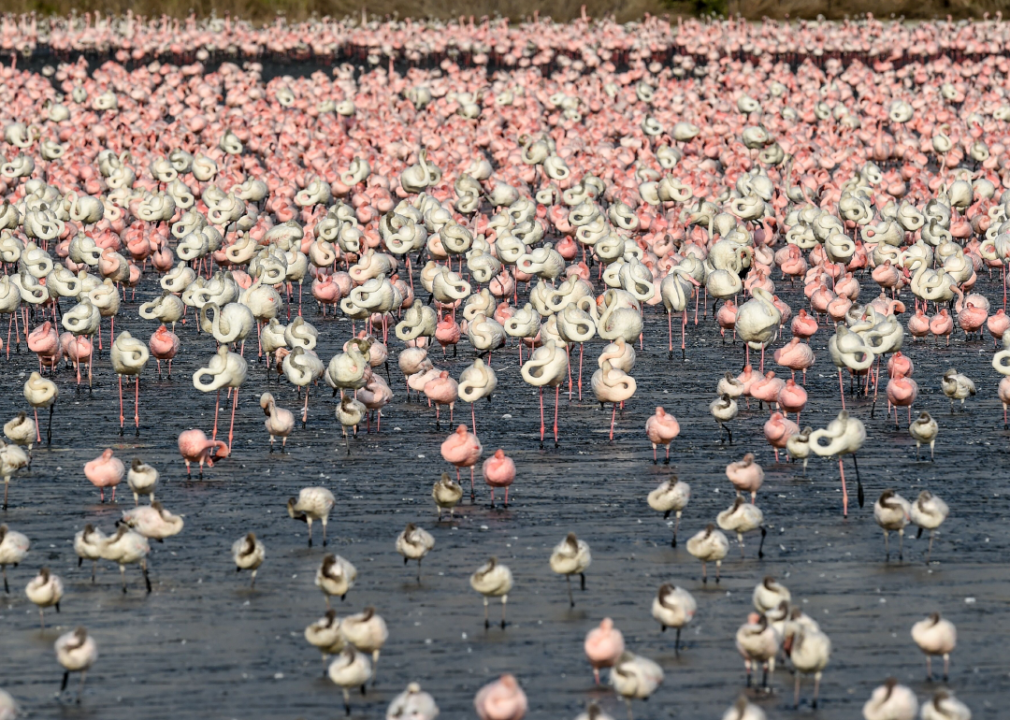 Punit PARANJPE/AFP // Getty Images
Flamingos flourish during coronavirus in Mumbai
As the human population of Mumbai went into lockdown amid the coronavirus pandemic, the flamingo population flourished leading to a count of over 150,000 during the summer of 2020. That number was up 25% from the previous year, according to the Science Times. In this photo, flocks of flamingos gather in a pond in Navi Mumbai on May 14, 2020.
Narayan Maharjan/NurPhoto via Getty Images
Migratory cormorants settle in Kathmandu
Nepal's wetlands have long served as winter homes to Siberian water fowl, although in recent years the number of birds has been in steady decline. Here, migratory neotropic cormorants enjoy a sunset at Taudaha Wetland Lake in Kirtipur, Kathmandu, Nepal.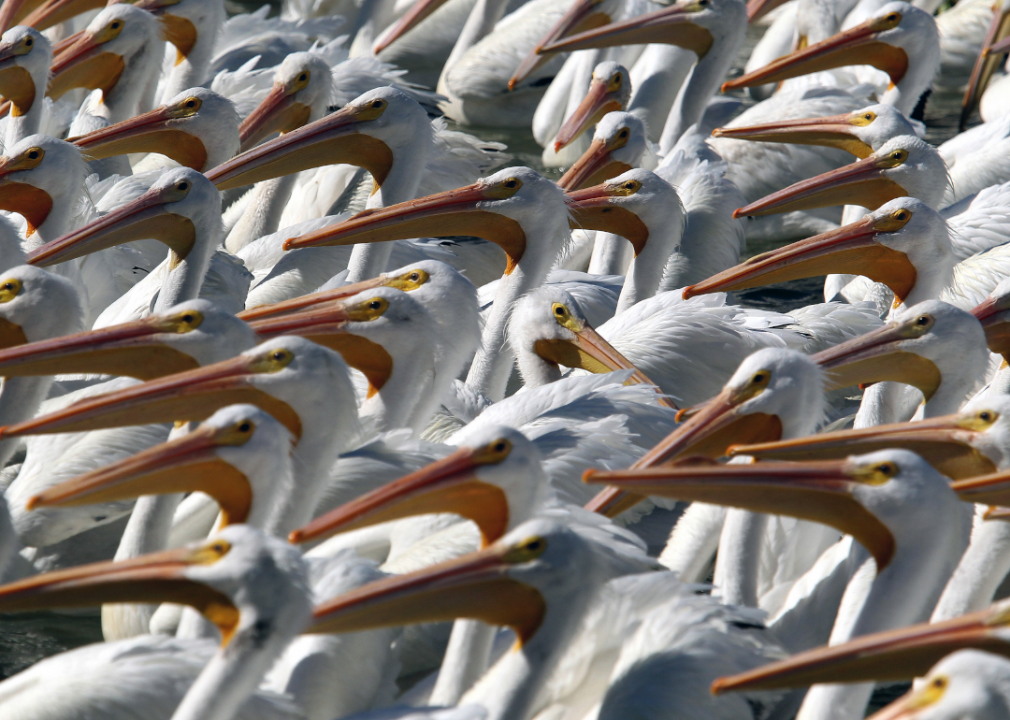 ULISES RUIZ/AFP via Getty Images
White pelicans winter in Mexico
For the last several decades, thousands of white pelicans—known coloqquialy as pelicano borregones (flying sheep)—arrive from Canada on the shores of Lake Chapala in Mexico. The bird is one of the largest from Canada and the United States. Here, they are seen at the Chapala lagoon in Cojumatlan, Mexico.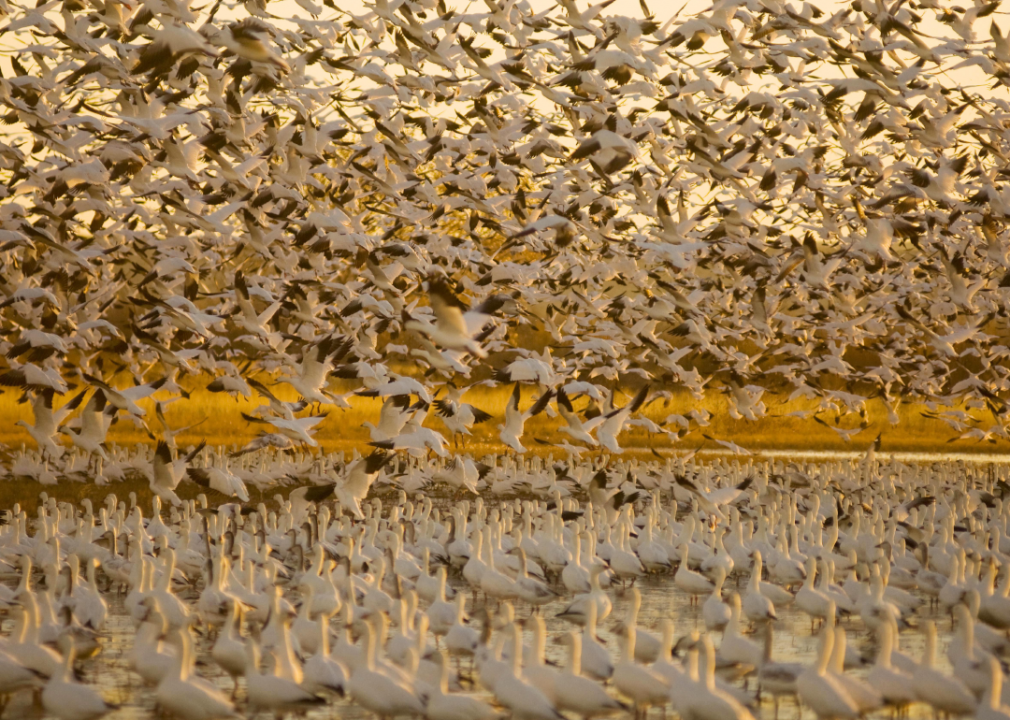 Steven Kazlowski/Barcroft Media // Getty Images
Snow geese spectacular
More than 40,000 snow geese, 15,000 sandhill cranes and 15,000 ducks cast a spectacular image as they prepare to migrate away from the Bosque Del Apache National Wildlife Refuge along the Rio Grande river in New Mexico. The snow geese, sometimes seen in Britain, migrate south from Canada, Greenland, and Alaska to escape the harsh winter and return to their northern breeding grounds in mid- to late February each year.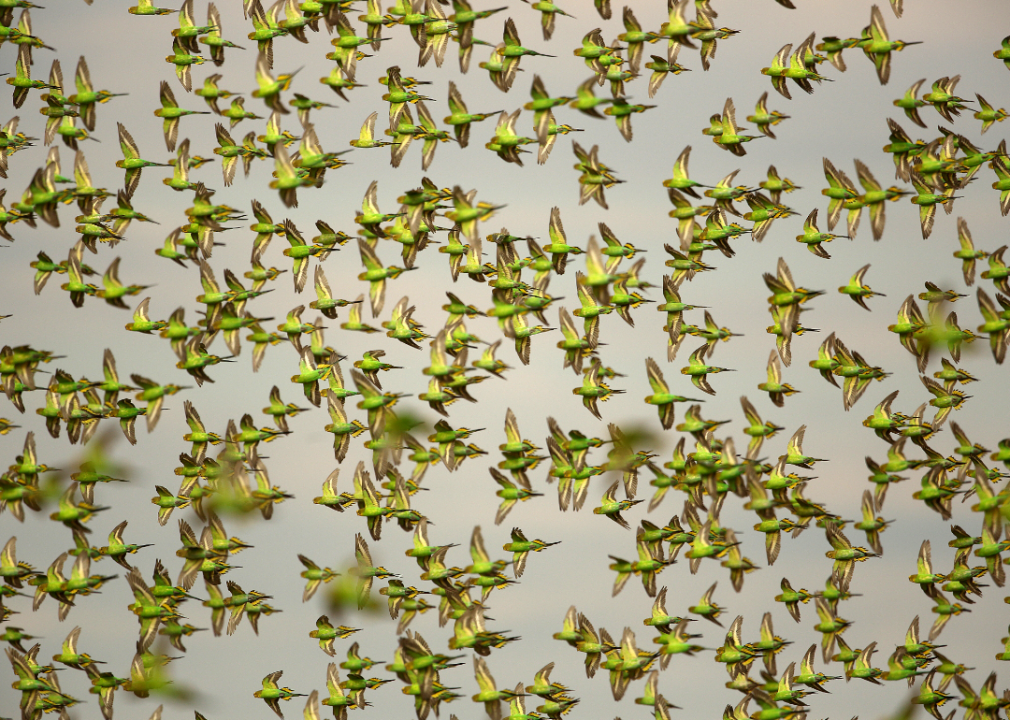 Glenn Campbell/The Sydney Morning Herald/Fairfax Media via Getty Images
Outback budgerigars
Hundreds of thousands of budgerigars, or budgies, gather around a remote central Australian watering hole. While Americans recognize the bird as a household parakeet, budgies are native to Australia and easily the most popular bird there. The nomadic species often dwells among small flocks but can also be seen as they are here in giant flocks.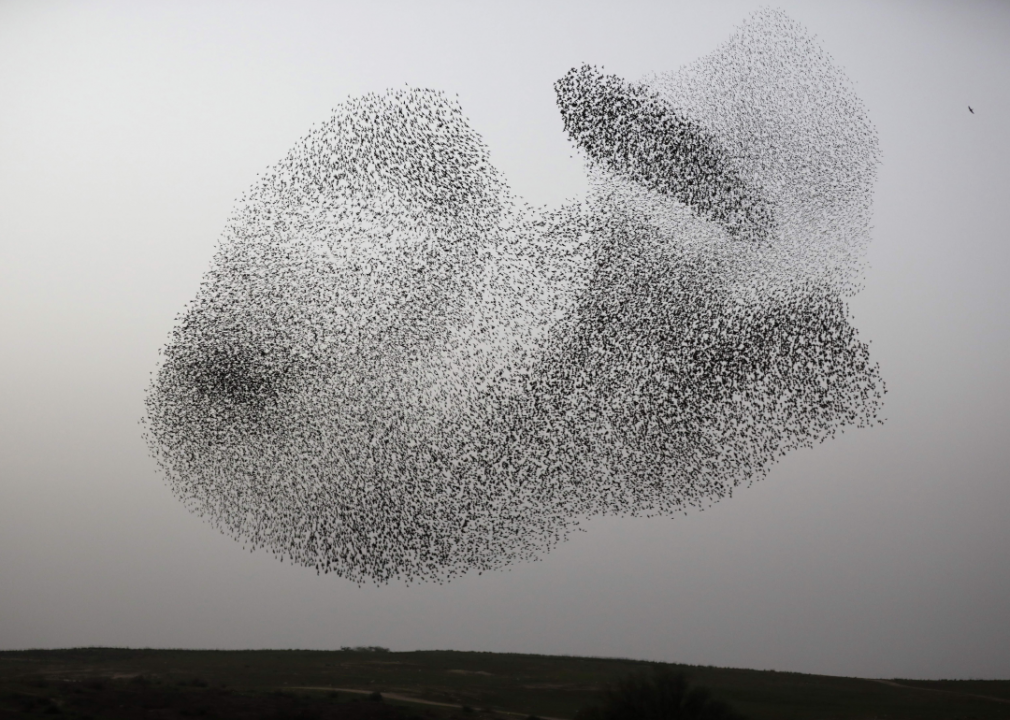 MENAHEM KAHANA/AFP via Getty Images
Mesmerizing murmuration of starlings
Starlings are known for their murmurations: synchronized movements perform in groups of thousands of flying birds. In this photo, a murmuration of starlings perform their traditional dance before landing to sleep near the southern Israeli city of Rahat, in the Negev desert. The dance creates what appear to be tight, transforming shapes as birds move virtually in sync wit one another, giving the impression of one cohesive, moving body.
Gunter Fischer/Education Images/Universal Images Group via Getty Images
Exit the Borneo bat cave
Prince Albert II of Monaco in 2008 initiated a camera system at the bat observatory at Deer Cave in Gunung Mulu National Park in Borneo, Malaysia. The "Bat Cam" captures imagery of the roughly 3 million bats living inside the cave. In this photo, thousands of those bats swarm out in a spiral formation from the Deer Cave to head to their feeding ground inside the park.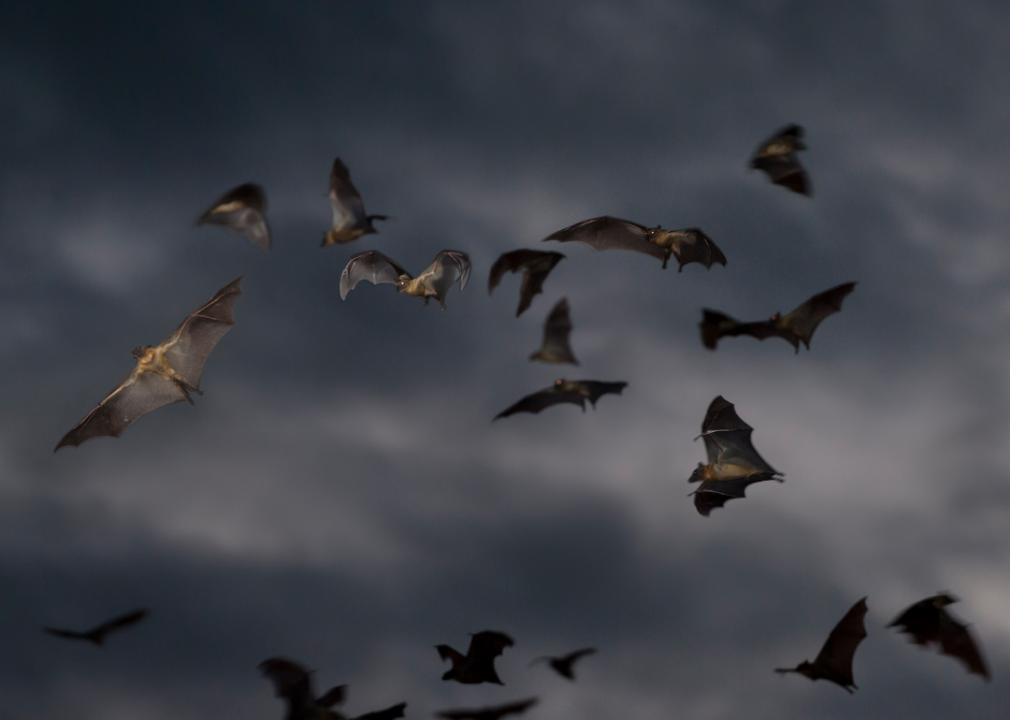 Nick Garbutt // Barcroft Media via Getty Images
Africa's largest mammal migration
An estimated 10 million straw-colored fruit bats migrate to Kansaka National Park in Northern Zambia between October and December each year, where they occupy an evergreen swamp forest. This bat species is the most widely distributed African megabat, with established territory throughout the southwestern Arabian Peninsula and sub-Saharan Africa's forests and savannas.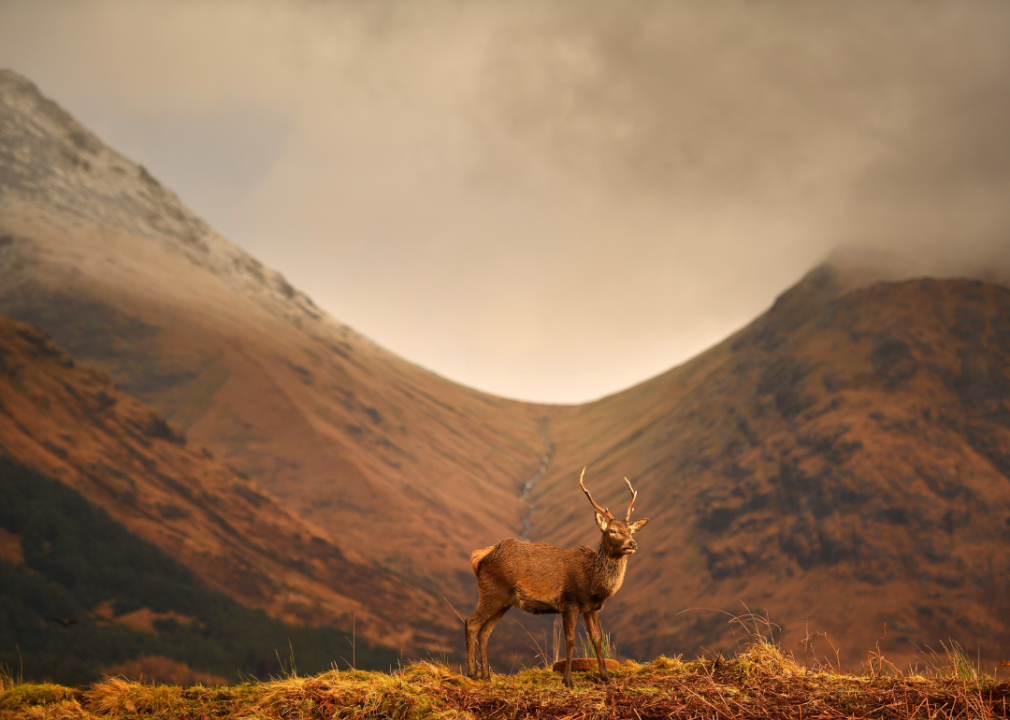 Jeff J Mitchell // Getty Images
A deer concern in the Scottish Highlands
More than half of the 1.5 million red deer in the United Kingdome live in Scotland, where their population has doubled in the last half-century. The boom to their numbers comes from a total lack of predators, leaving the deer to reproduce with reckless abandon, causing significant upticks in Lyme disease cases, obliterate the ecosystem, and strip tree bark bare. In this photo, red deer graze in Glen Etive, Scotland.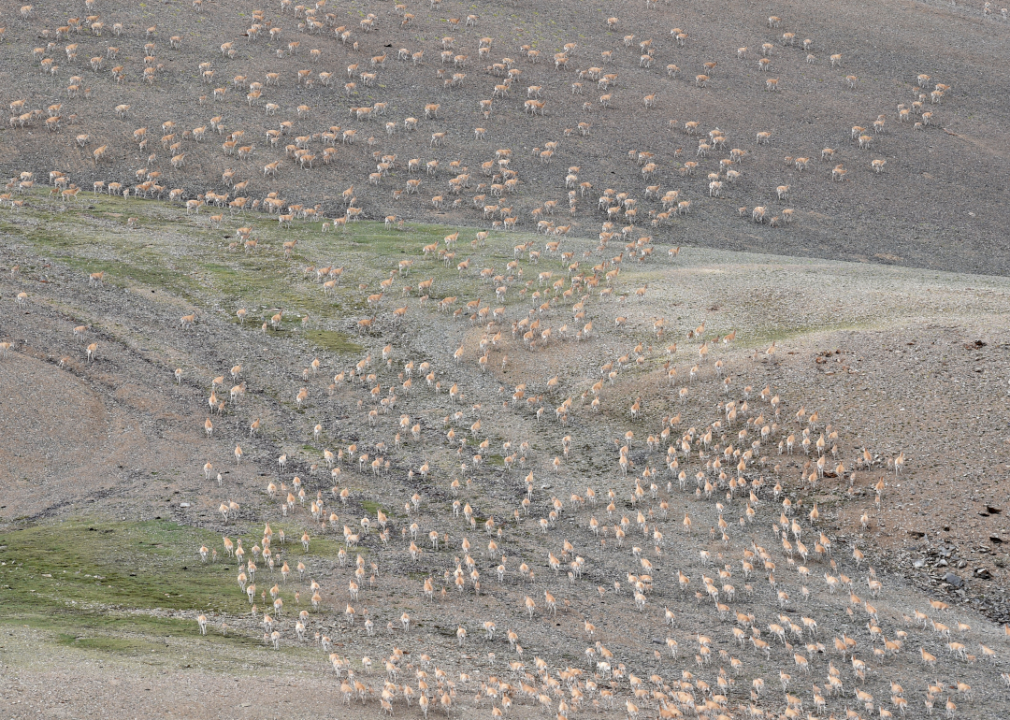 Chogo/Xinhua via Getty Images
Safe haven for the Tibetan antelope
Tibetan antelope survive in the Tibetan Plateau, a harsh ecosystem of semi-desert land and mountains, but their numbers have been slashed. by demand for their highly prized wool, called shahtoosh. Here, Tibetan antelope graze near Rongmar Township of Nyima County at the Chang Tang National Nature Reserve in southwest Tibet.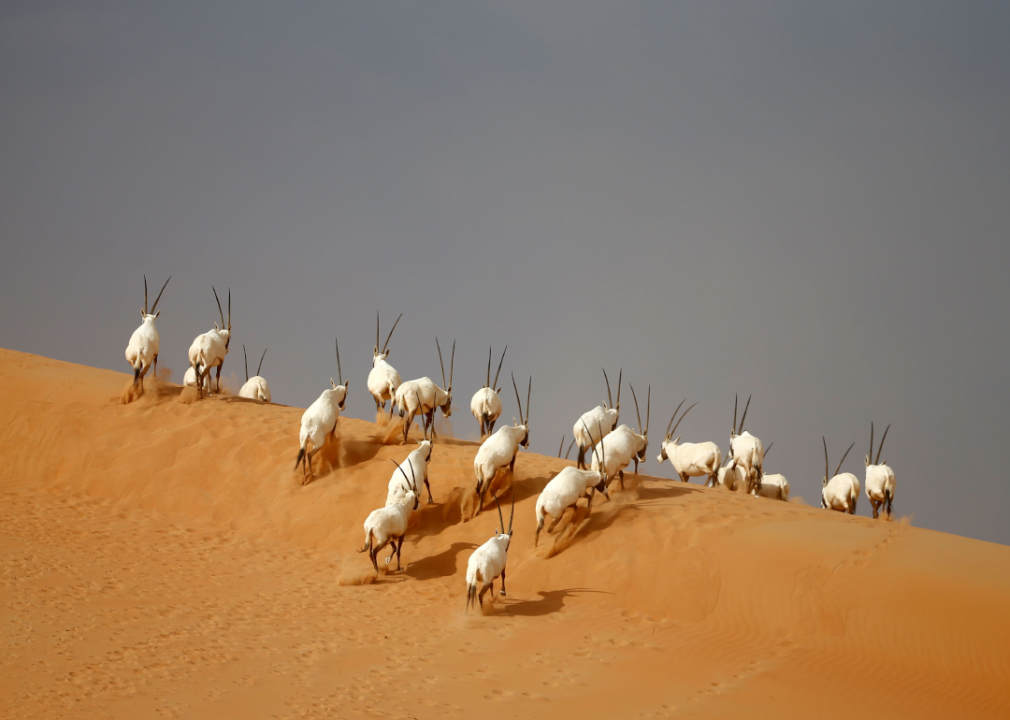 KARIM SAHIB/AFP via Getty Images
Oryx on the edge
The Arabian Oryx Sanctuary sanctuary in the UAE stretches across more than 5,500 square miles. Here, Arabian oryx in the sanctuary wander about 180 miles south of Abu Dhabi. The species was the first in history to be upgraded in 2011 from extinct in the wild to vulnerable.
FAISAL AL-NASSER/AFP via Getty Images
Camel convergence in Saudi Arabia
The King Abdulaziz Camel Festival is a six-week event featuring a camel race beauty contest. Here, camels are pictured on Jan. 7, 2020, en route to the annual festival in Rumah, about 99 miles east of Riyadh.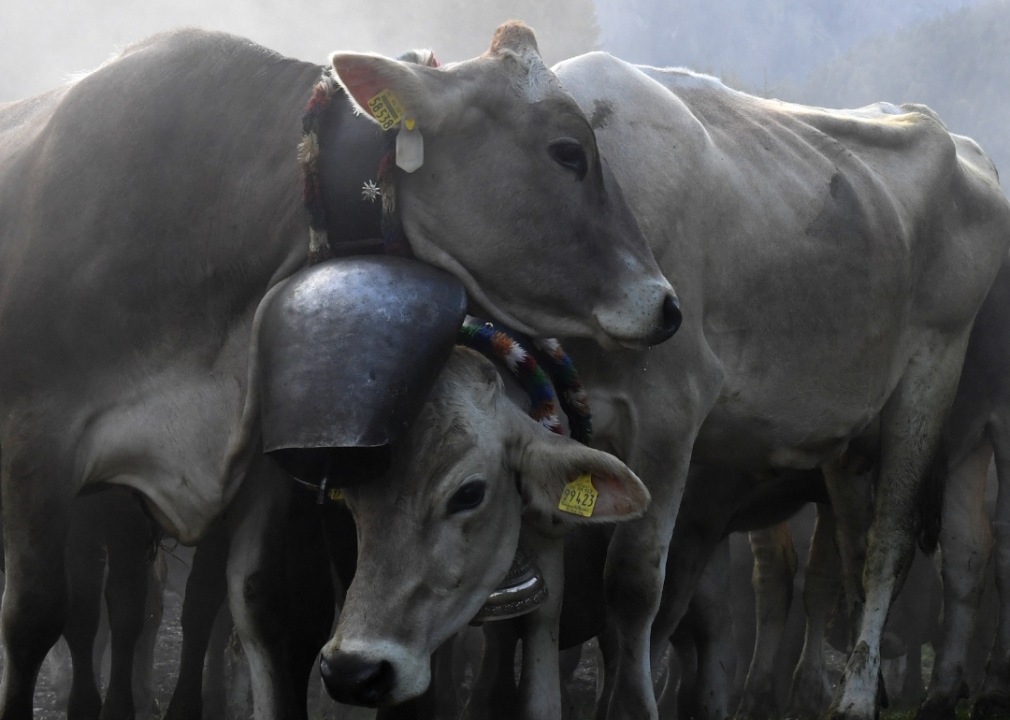 CHRISTOF STACHE/AFP via Getty Images
Almatrieb in Germany
Cows are pictured here on parade during the Viehscheid cattle drive near the village of Bad Hindelang, southern Germany. During the traditional "Almabtrieb" event, cow herds are brought from alpine pastures, where they stay during the summer, to lower pastures in the valley. Some of the cows are decorated and celebrations occur throughout the villages.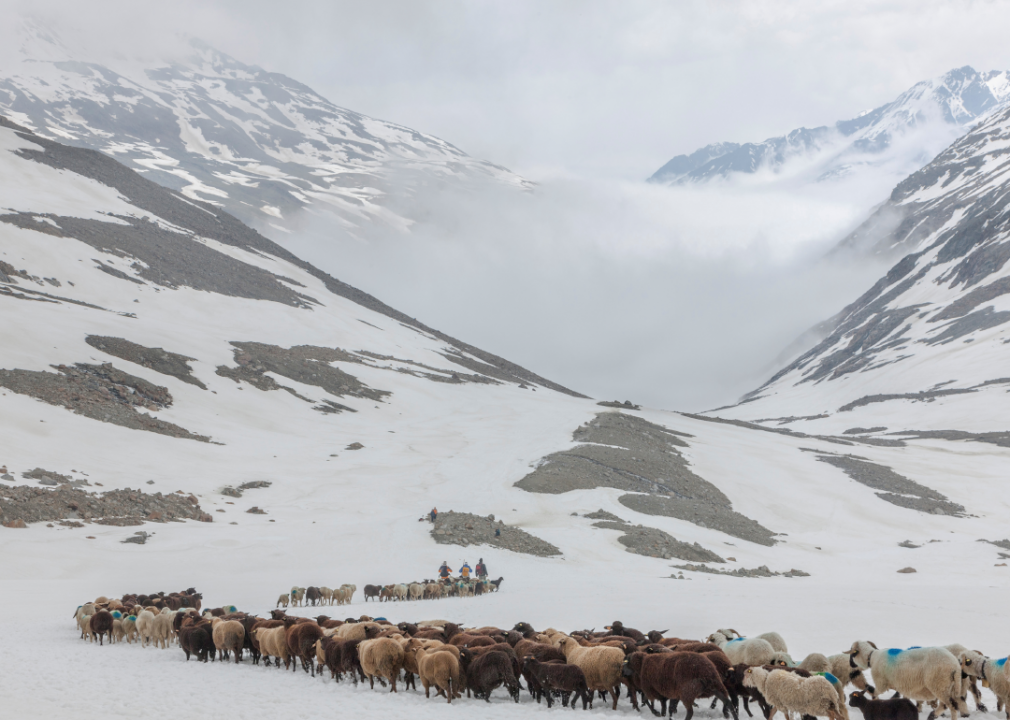 Martin Zwick/REDA&CO/Universal Images Group via Getty Images
Sheep trekking in Austria
During the great sheep trek across the main alpine crest in the Otztal Alps between South Tyrol, Italy. and North Tyrol, up to 5,500 Austrian sheep cover up to 27 miles in distance and about 10,500 feet in altitude crossing steep terrain, glaciers, snowfields and loose moraine ridges. The trek is made possible by between 70 and 80 drovers, or herders, who move the sheep between properties for land maintenance and grazing. The sheep are moved in the early summer and back again in the fall.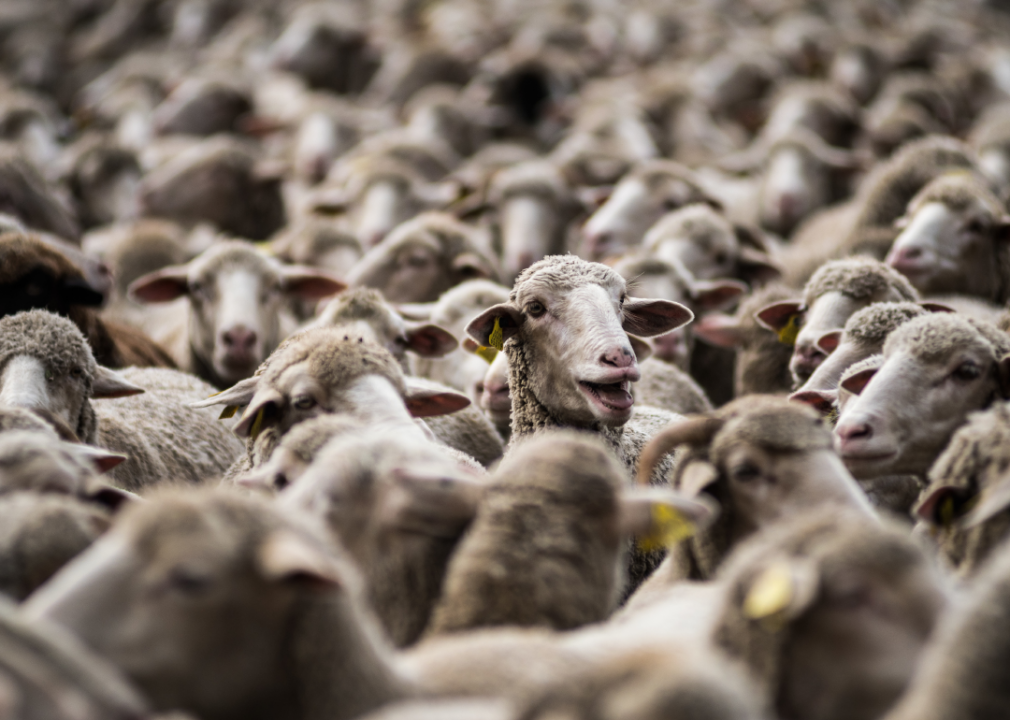 Marcos del Mazo/LightRocket via Getty Images
Sheep in Madrid
Flocks of sheep cross through Madrid's city center during the annual transhumance festival, begun in 1994. The festival memorializes a migration route that once passed directly through Madrid as shepherds moved livestock further south ahead of the winter months.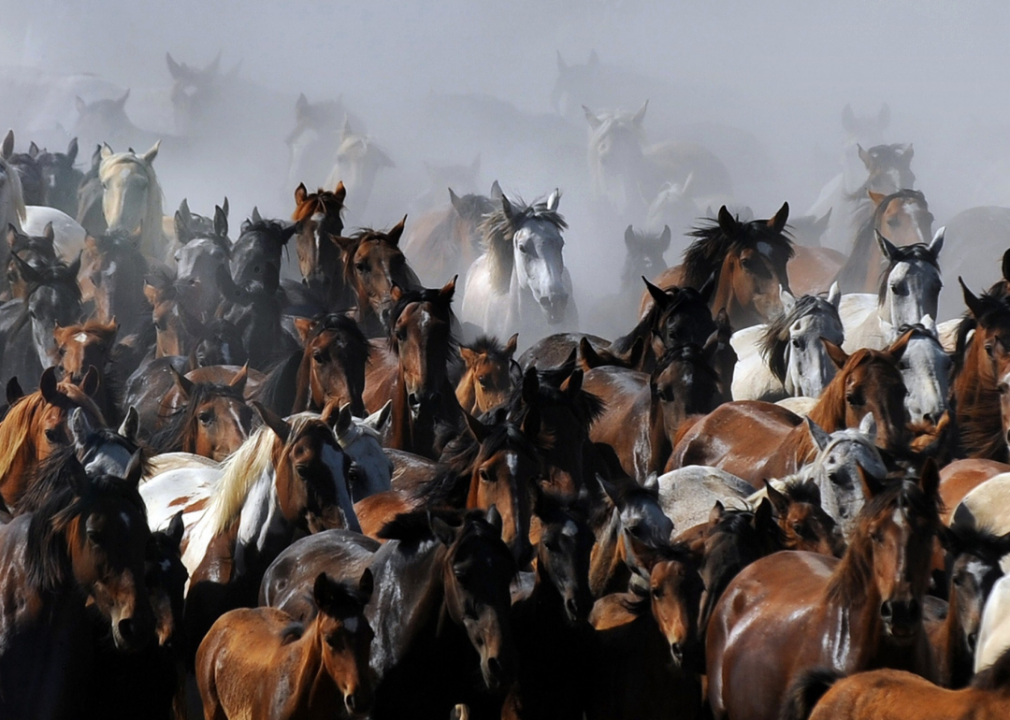 CRISTINA QUICLER/AFP via Getty Images
Wild mares of Coto Donana
Mares cross through the village of Rocio, during the annual "Saca de las Yeguas" (round-up of the wild mares) on June 26, 2018. Each year, large herds of free-roaming horses are rounded up from the marshes and forests near the Coto Donana National Park to be driven past the hermitage in El Rocio, where they are blessed before heading on to run through the crowded streets of Almonte.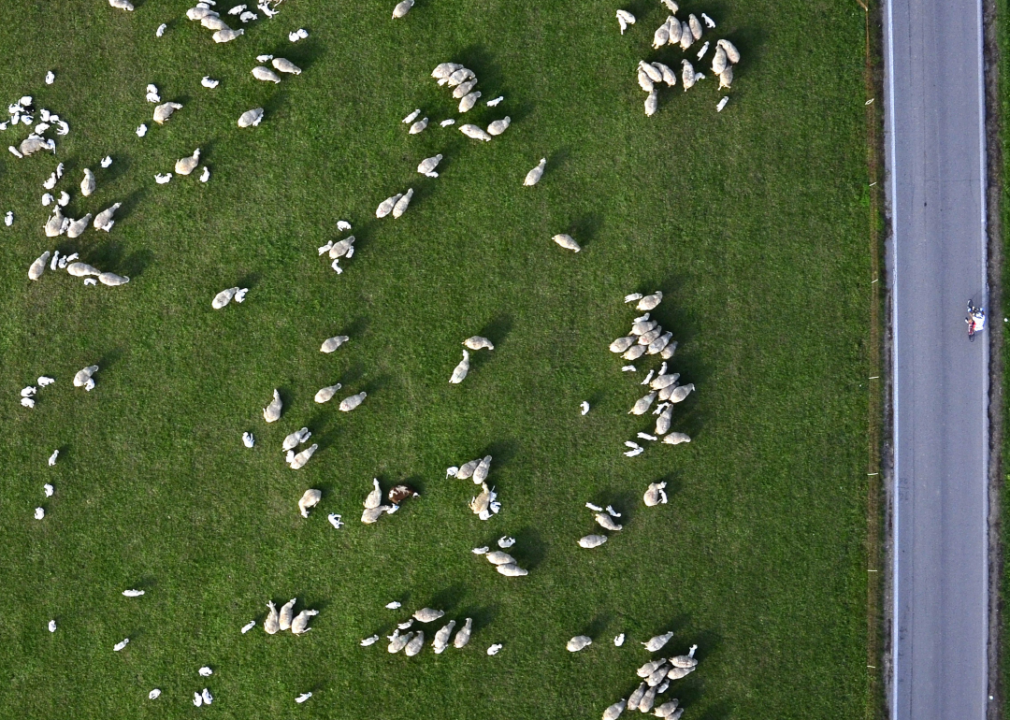 OLIVIER MORIN/AFP via Getty Images
Counting sheep in Italy
In this photo, a field of sheep and their lambs in Robecco sul Naviglio, Italy, begin their seasonal, human-led migration down the mountains before the beginning of winter. As this gallery has shown, collections of shepherds and their flocks throughout the world have practiced guided migration along ancient routes.
Creative Touch Imaging Ltd./NurPhoto via Getty Images
Goats in the trees of Morocco
Goats in Morocco are encouraged by farmers to eat ripened fruits on argan trees (Argania spinosa). This is because the fruit's nuts, used to produce argan oil, are extremely difficult to harvest. The goats eat the fruit, swallow the nuts, and the goats' digestive tracks soften the nuts before they are passed as waste. Farmers can then gather and grind nuts into oil. The goats in this picture are eating argan fruits in Essaouria, Morroco.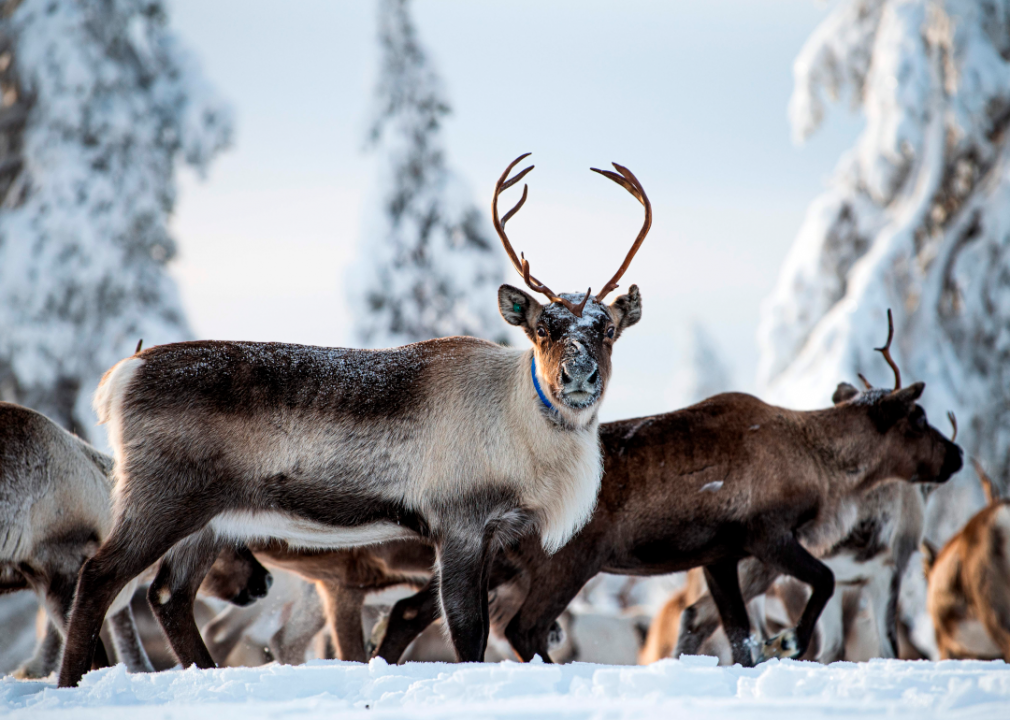 JONATHAN NACKSTRAND/AFP via Getty Images
Herding reindeer in Lapland
Reindeer from the Vilhelmina norra sameby are pictured on Feb. 4, 2020, at their winter season location near Ornskoldsvik in northern Sweden. Reindeer herders once worried about lynx, wolverines, and eagles preying on the herd animals as they were moved closer to food sources in the winter. Today, there is a new threat: climate change.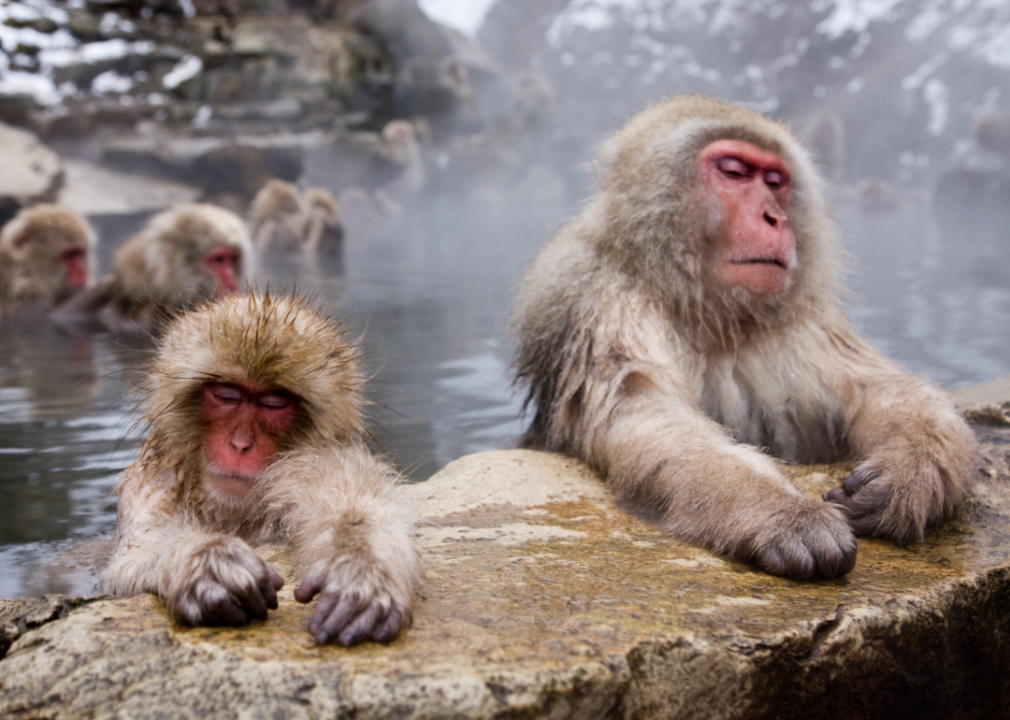 Canva
Gathering at the hot springs in Japan
Japanese macaques, also known as snow monkeys, are the most northerly, nonhuman primate in the world. This macaque troop regularly visits the Jigokudani-Onsen springs to escape the cold. The hot springs are said to help relieve nerve pain and fatigue.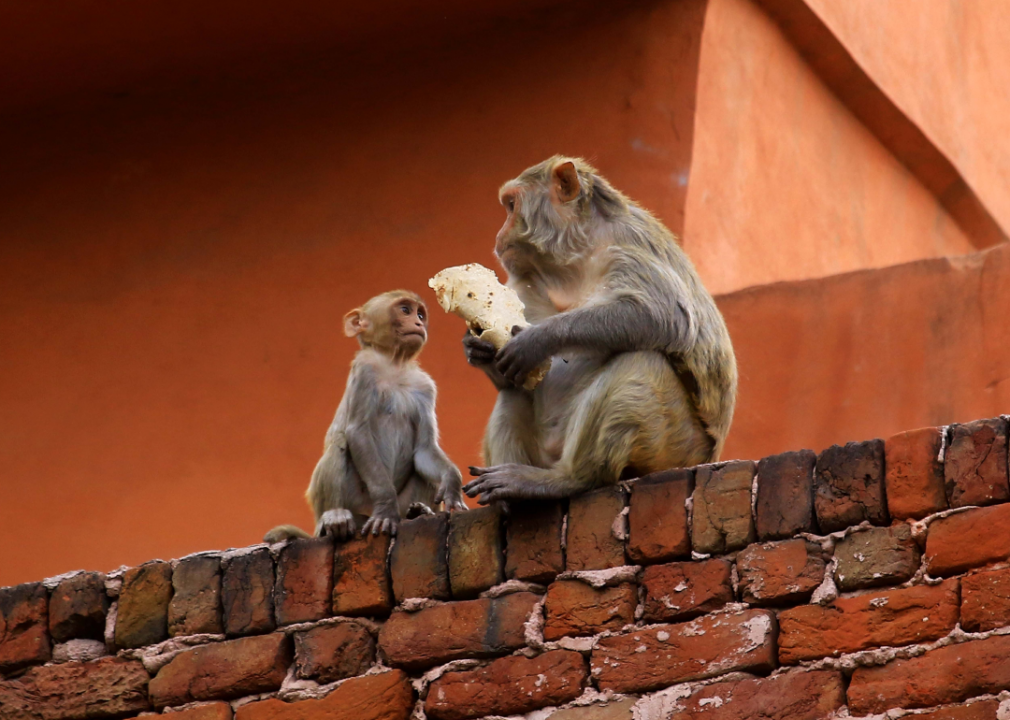 Vishal Bhatnagar/NurPhoto via Getty Images
Macaques during lockdown in Jaipur
Rhesus macaques are seen on May 1, 2020, along the roadside of the walled-in city of Jaipur during the nationwide lockdown imposed in the wake of the coronavirus pandemic Rajasthan, India. National Geographic produced a documentary series about the Jaipur macaques called "Monkey Thieves" that looked at the social lives and habits of the rebellious, curious animals that have grown to rely on handouts by tourists and residents as a primary food source.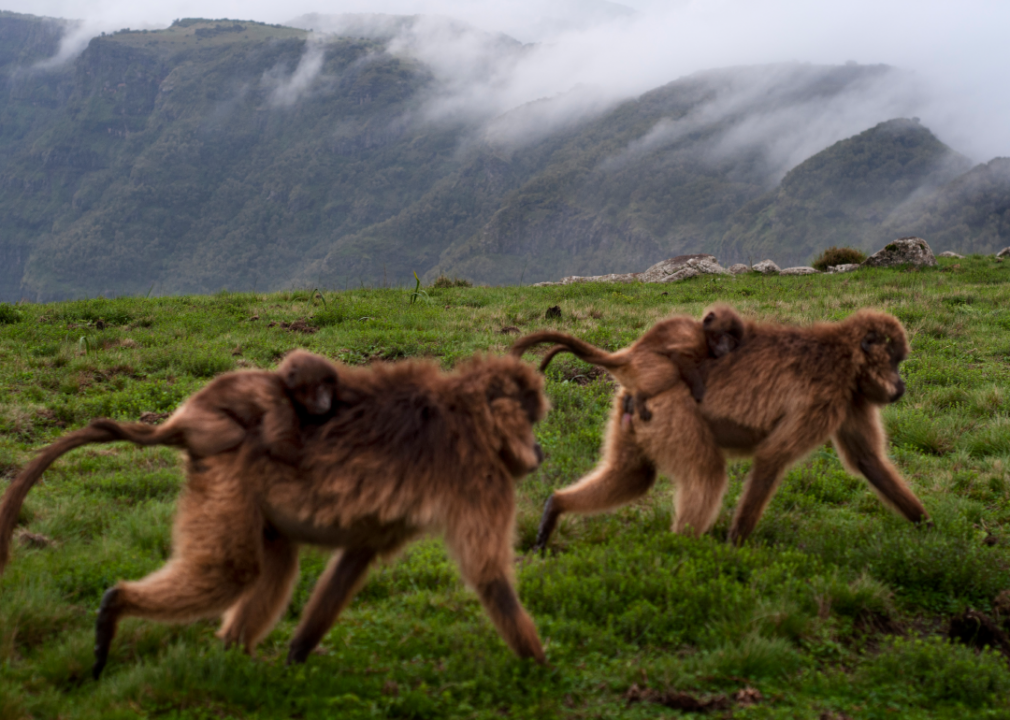 Sergi Reboredo/VW Pics/Universal Images Group via Getty Images
Baby geladas on board in North Ethiopia
The gelada (Theropithecus gelada), also called the bleeding-heart monkey for its chest marking, lives exclusively in the Ethiopian Highlands. These geladas were photographed at the Simien Mountains National Park, Amhara region, North Ethiopia.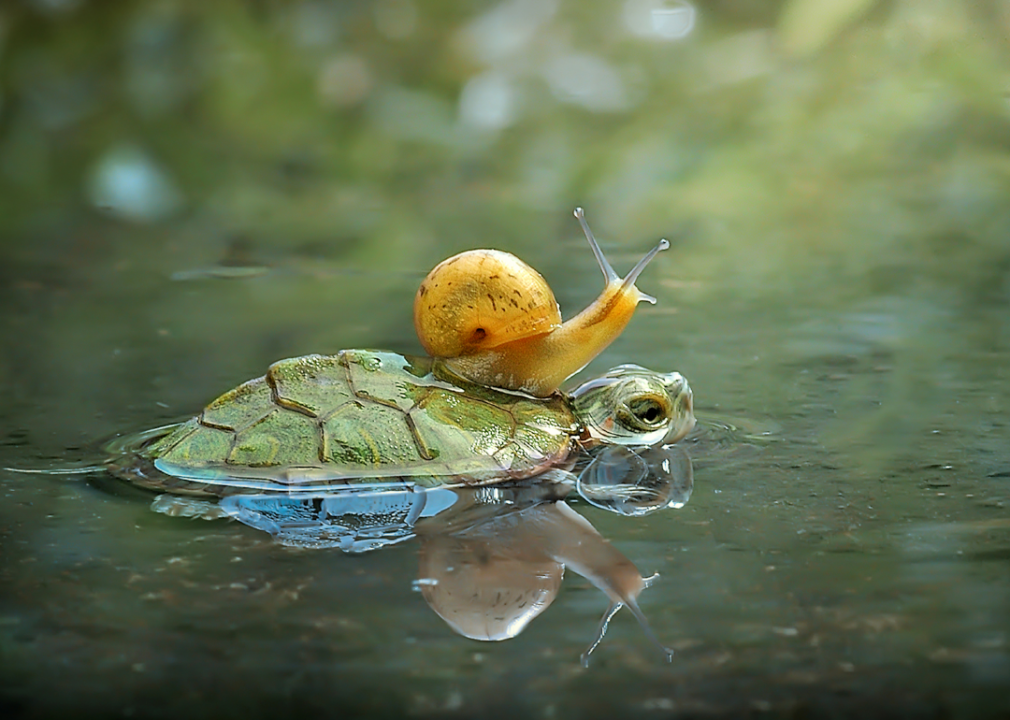 Riau Images // Barcroft Media via Getty Images
Fast friends going places
A lazy snail hitches a ride on this red-eared slider turtle in Padang, Indonesia. Red-eared sliders eat aquatic snails, but this turtle didn't seem to mind the company,.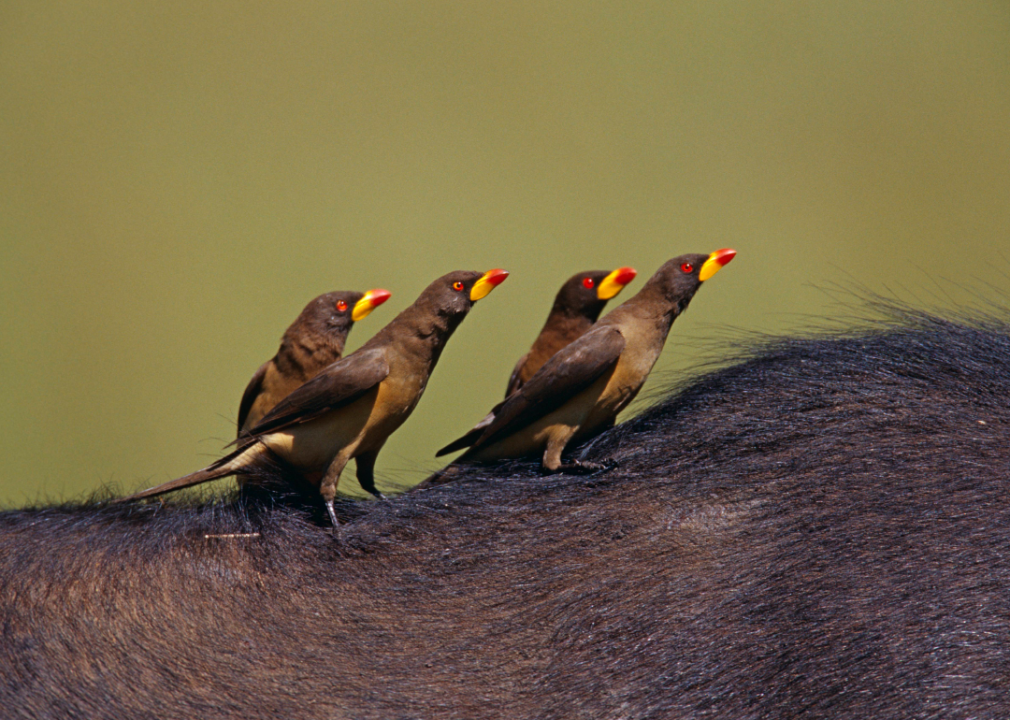 Avalon/Universal Images Group via Getty Images
Four birds ride a buffalo
The 8-inch-long red-billed oxpecker gets much of its food from large animals like cattle, eating flies, maggots, and ticks off the animals' bodies. In this photo, four red-billed oxpeckers take a ride on a buffalo in Maasai Mara, Kenya.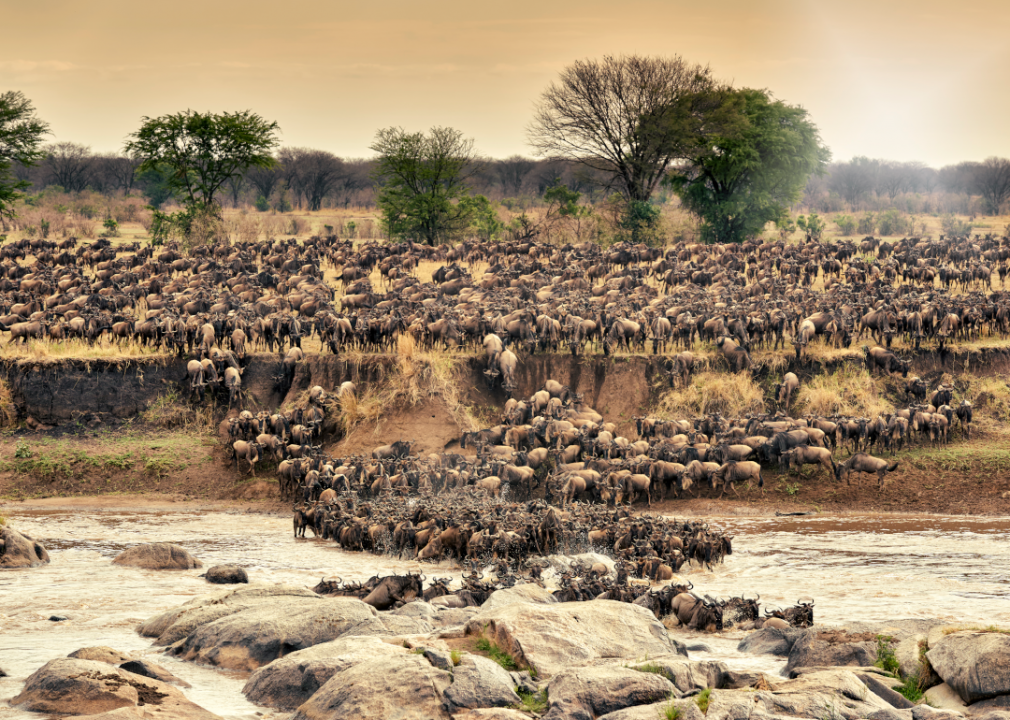 Juergen Ritterbach // Barcroft Media via Getty Images
Epic wildebeest migration to Maasai Mara
Thousands of wildebeest cross the Mara river at Serengeti National Park in Tanzania during one of the animal kingdom's most famous migrations. The Great Wildebeest Migration is the largest animal migration on the globe and involves more than 2 million wildebeests, gazelles, and zebras moving across the Serengeti and Masai Mara in a clockwise direction.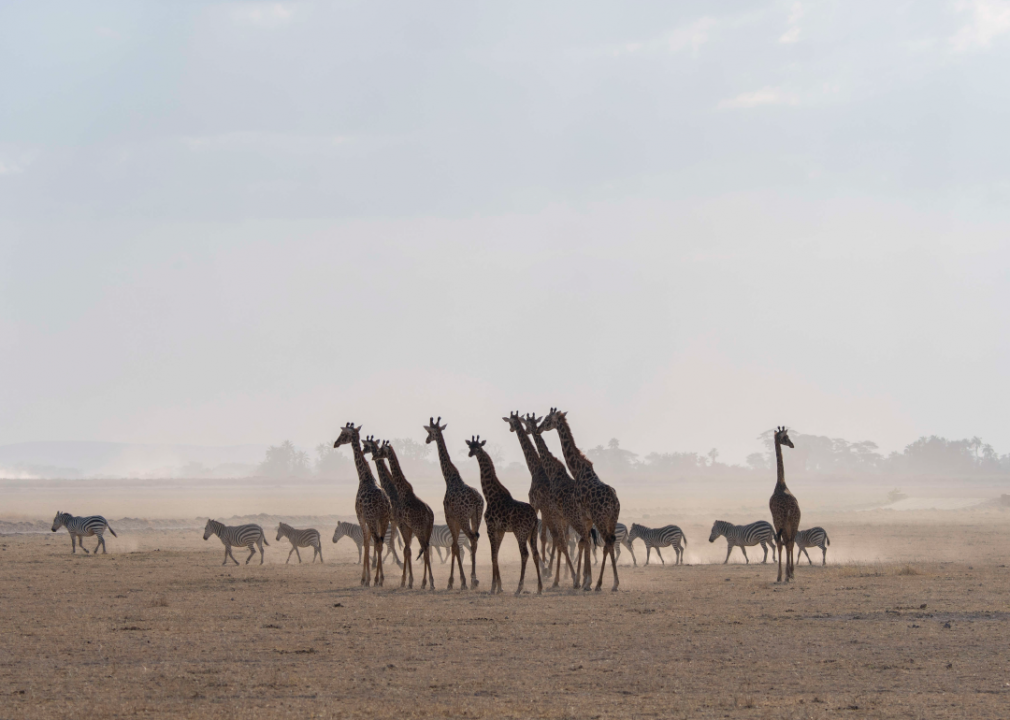 Wolfgang Kaehler/LightRocket via Getty Images
A tower of giraffes in Kenya
A herd of Masai giraffes and Burchell's zebras are silhouetted in a dust storm in Amboseli National Park, Kenya. The two animals are routinely seen together out in the wild.
Greg Du Toit // Barcroft Media via Getty Images
Elephants at the watering hole
A shot at Botswana's Mashatu Game Reserve captures a baby elephant at a watering hole. The coronavirus has meant many hunters have not ventured out, offering a reprieve to elephants and other vulnerable species.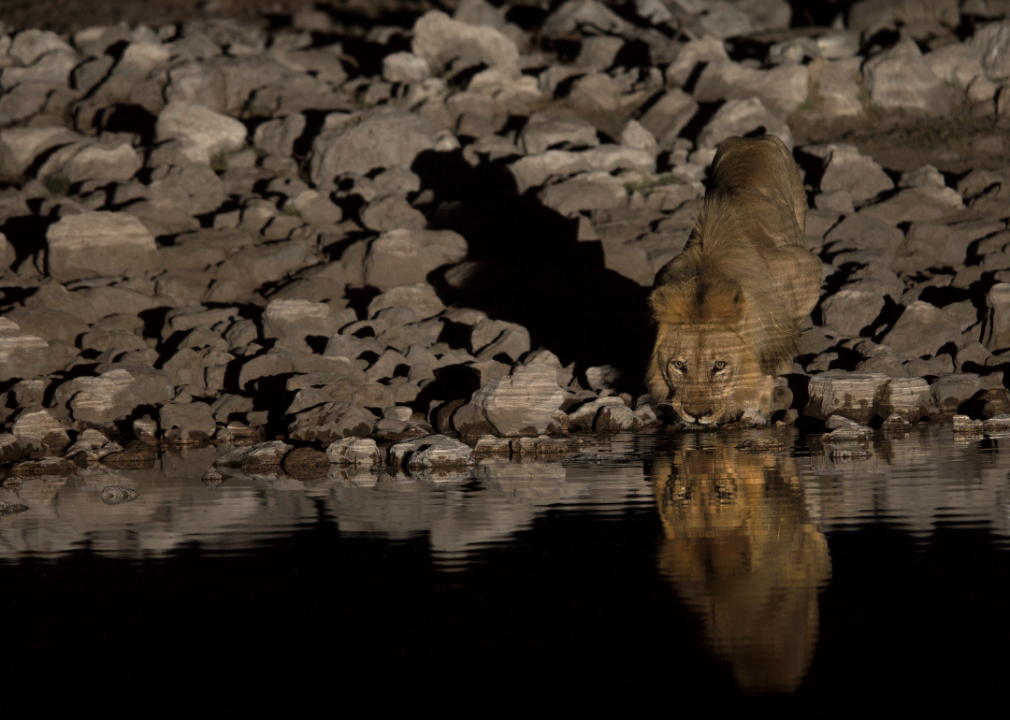 Shivang Mehta // Barcroft Media via Getty Images
Night watch for the lion
A male lion looks up at the camera while drinking at night from a water hole in Etosha National Park in Namibia. The park has natural and artificial watering holes to attract various species.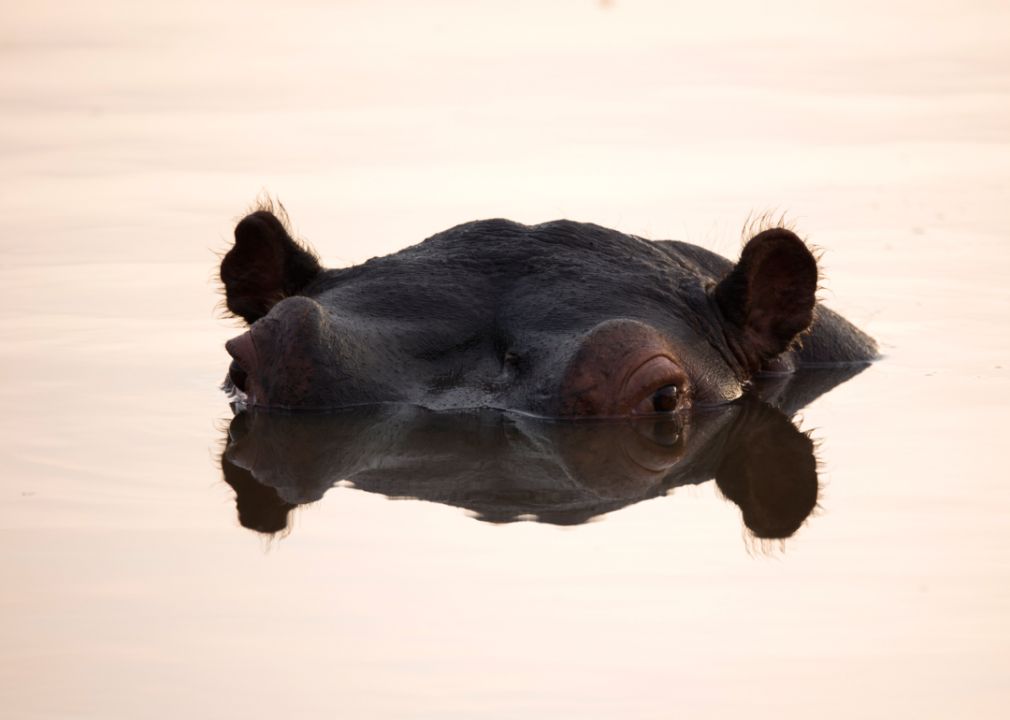 Dan Kitwood // Getty Images
Hippo stays low
A hippopotamus breaches the water in a pool in Kruger National Park in Lower Sabie, South Africa. While hippo populations were once found across South Africa, the species now lives in KwaZulu-Natal and Mpumalanga, Limpopo. Hippos were also reintroduced in the Eastern and Western Cape.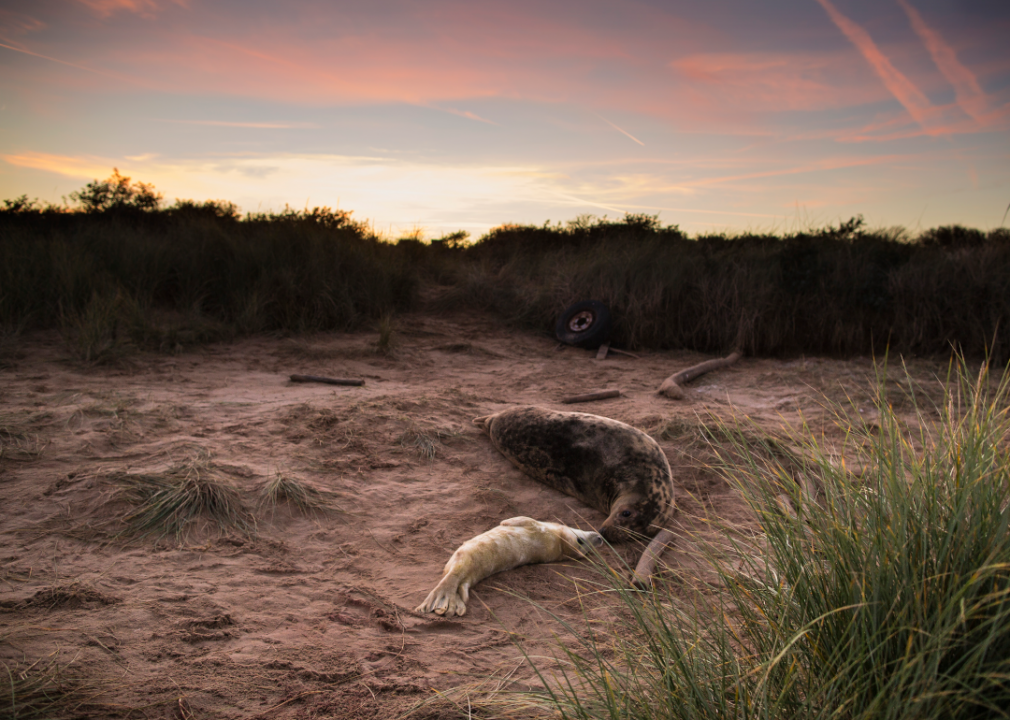 Dan Kitwood // Getty Images
Seal pup season
A grey seal cow tends to her newly born pup in the sand dunes at sunset near the Lincolnshire Wildlife Trust's Donna Nook National Nature Reserve in England. These seals live on both sides of the Atlantic Ocean.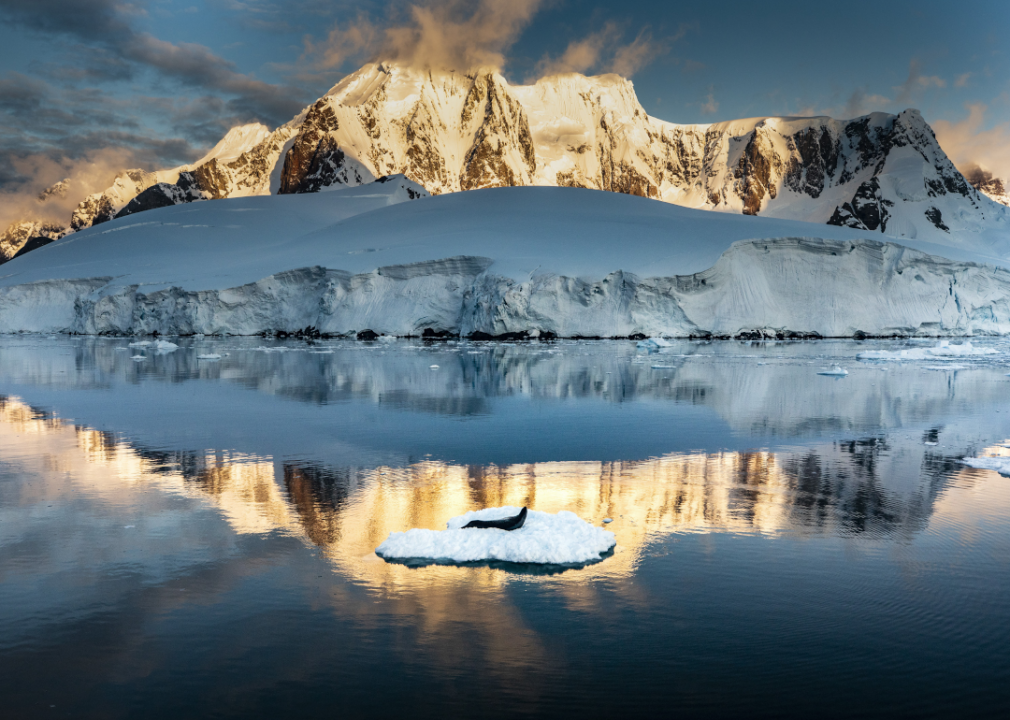 Ozge Elif Kizil/Anadolu Agency via Getty Images
Leopard seal in Antarctica
A leopard seal rests on ice in Lemaire Channel, a strait off Antarctica, between Kiev Peninsula in the mainland's Graham Land and Booth Island on Feb. 8, 2019. Leopard seals are the second-largest seals living in Antarctic.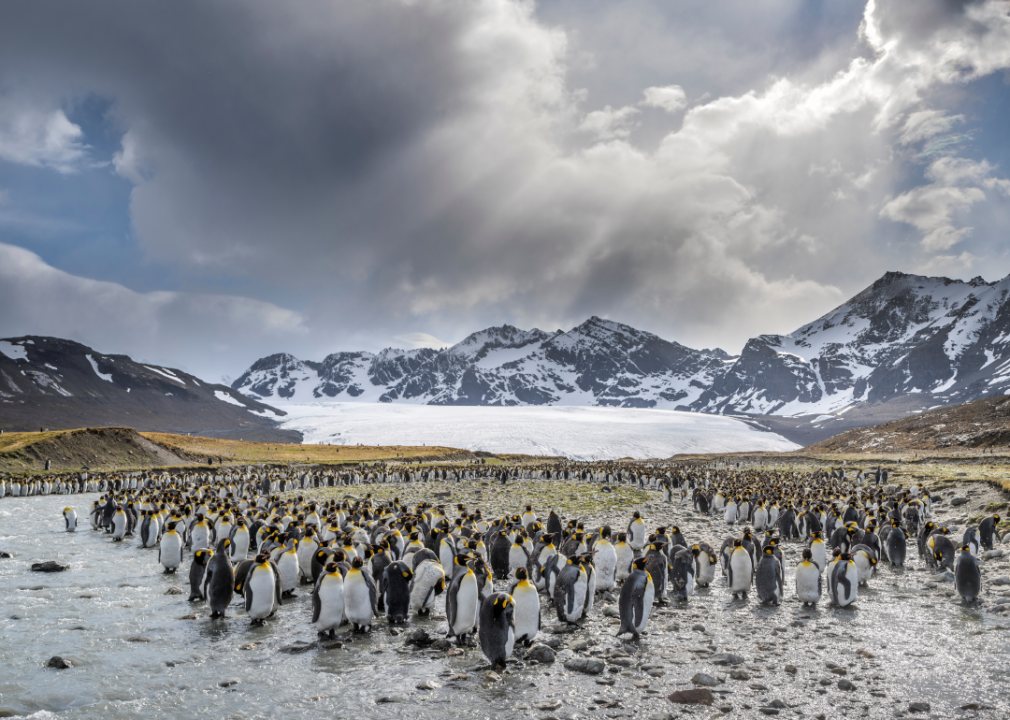 Martin Zwick/REDA&CO/Universal Images Group via Getty Images
King penguins at the Rookery in South Georgia
King penguins gather at the rookery in St. Andrews Bay on the island of South Georgia. They are the second largest of all penguin species alive today.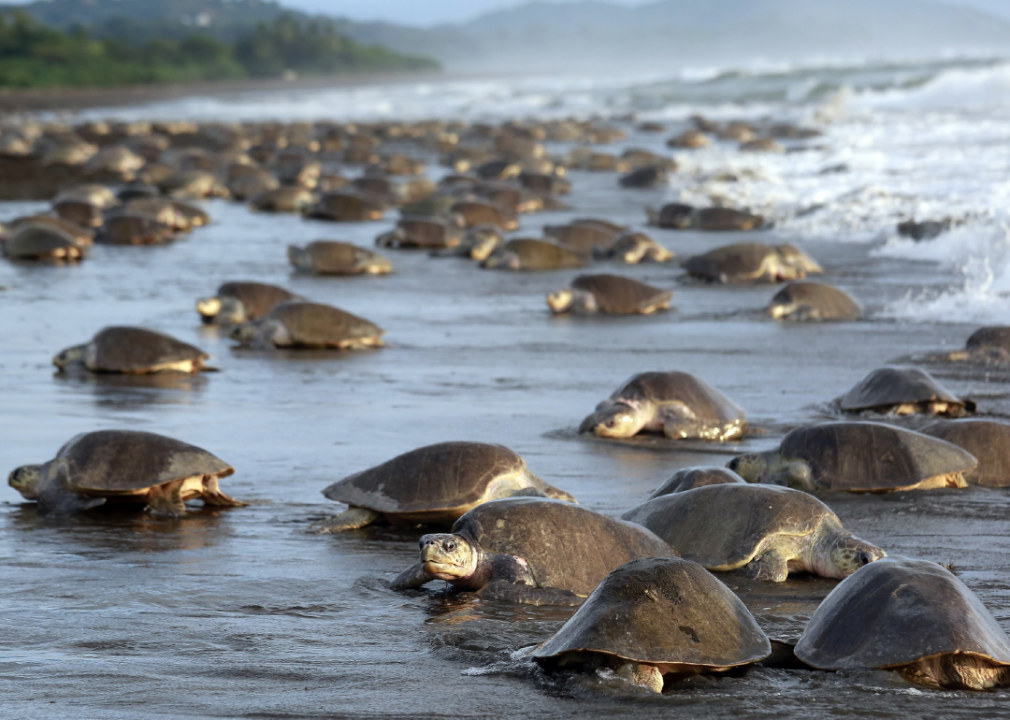 Xinhua/Kent Gilbert via Getty Images
Lora Sea Turtles in Costa Rica
Lora or 'Olive Ridley' sea turtles leave the sea to lay their eggs in nests at Ostional Beach, Costa Rica. The National Ostional Wildlife Refuge is one of the two most important beaches in the world serving for Lora sea turtle nesting.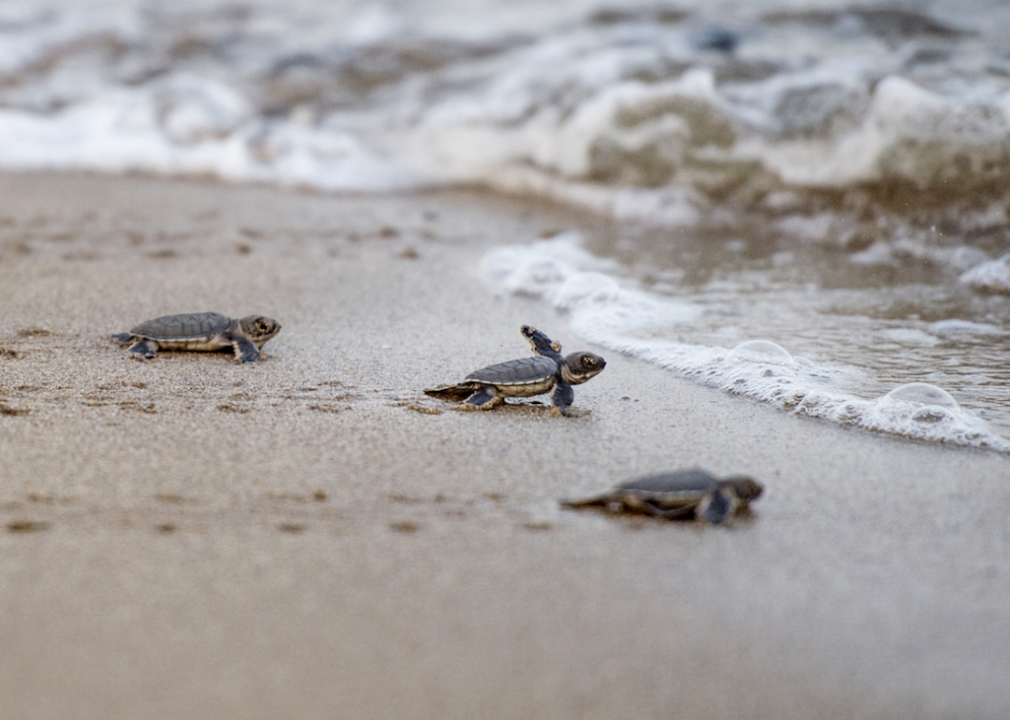 YE AUNG THU/AFP via Getty Images
Green sea turtles in Myanmar
Newborn endangered green sea turtles heading out to sea after being released from a protected area on Thameehla Island in Myanmar. Baby turtles here face constant threats; from crabs grabbing hatchlings on the shore to poachers.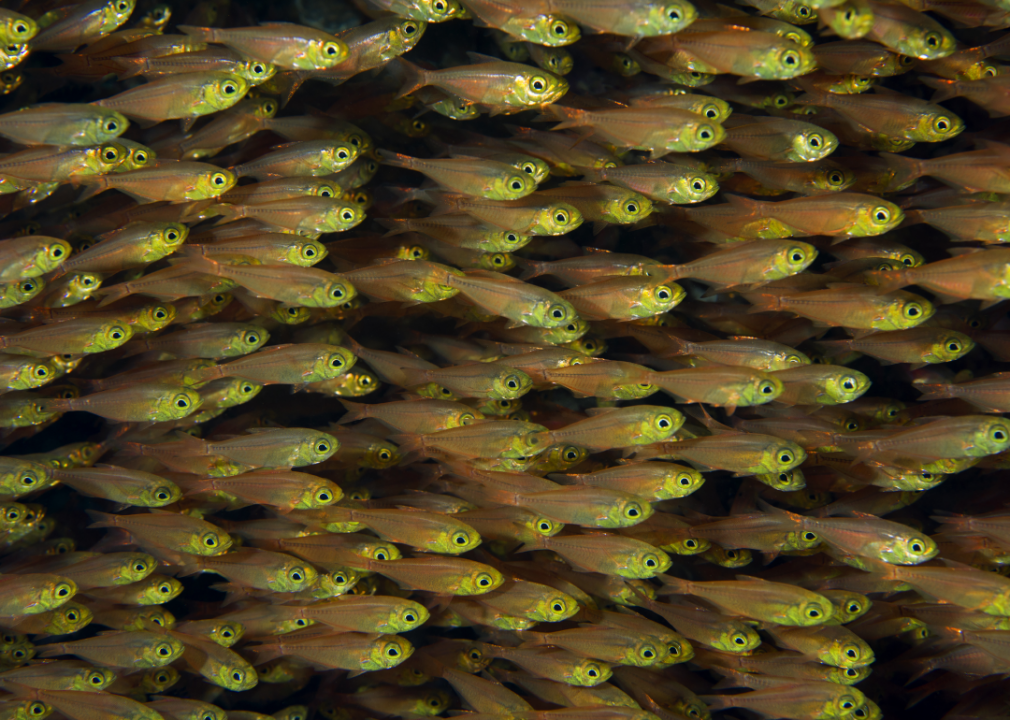 Andrey Nekrasov // Barcroft Media via Getty Images
Glassfish school in the Red Sea
This photo captures a large school of glassfish in the Red Sea, Sinai Peninsula, Egypt. These fish can be found throughout the Indo-Pacific.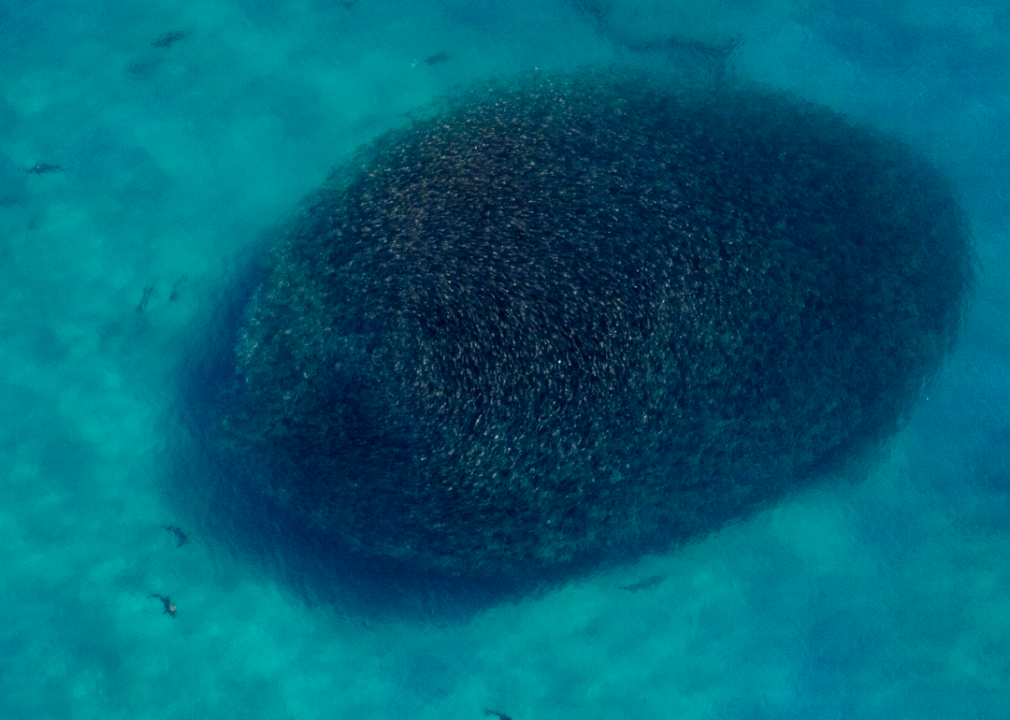 James Abernethy // Barcroft Media via Getty Images
A giant shoal of fish in Florida
Fish in Florida form a defensive formation called a bait ball. Schools of fish form bait balls when predators like sea lions or bigger fish are nearby, thereby reducing the number of fish being threatened.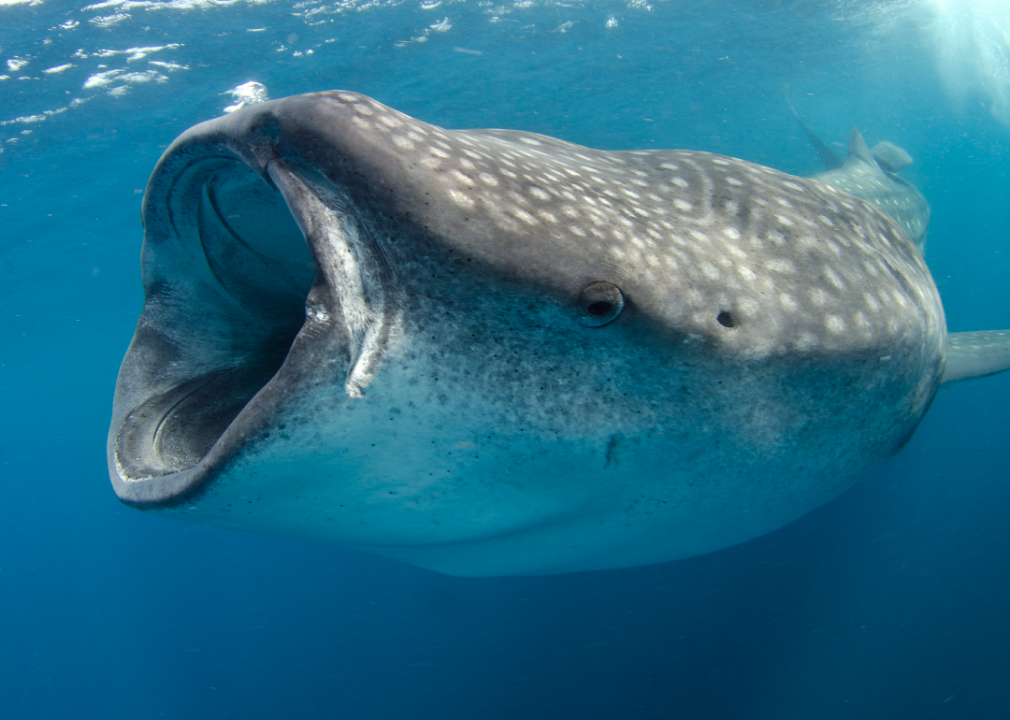 Luis Javier Sandoval/VW Pics/Universal Images Group via Getty Images
Snacks for the whale sharks
A migrating whale shark opens wide while feeding on plankton near the surface at Isla Mujeres, Mexico. Whale sharks are the largest-known fish species alive today.
Daniel Botelho // Barcroft Media via Getty Images
Dolphins on a sardine run in Africa
A common dolphin dives into the bait ball of sardines in Mdumbi, South Africa. After hatching along the Agulhas Bank, sardines travel north into cooler waters along South Africa's east coast. The annual migration, known as the "sardine run," occurs along the shoreline and provides significant, reliable boosts to the fishing industry.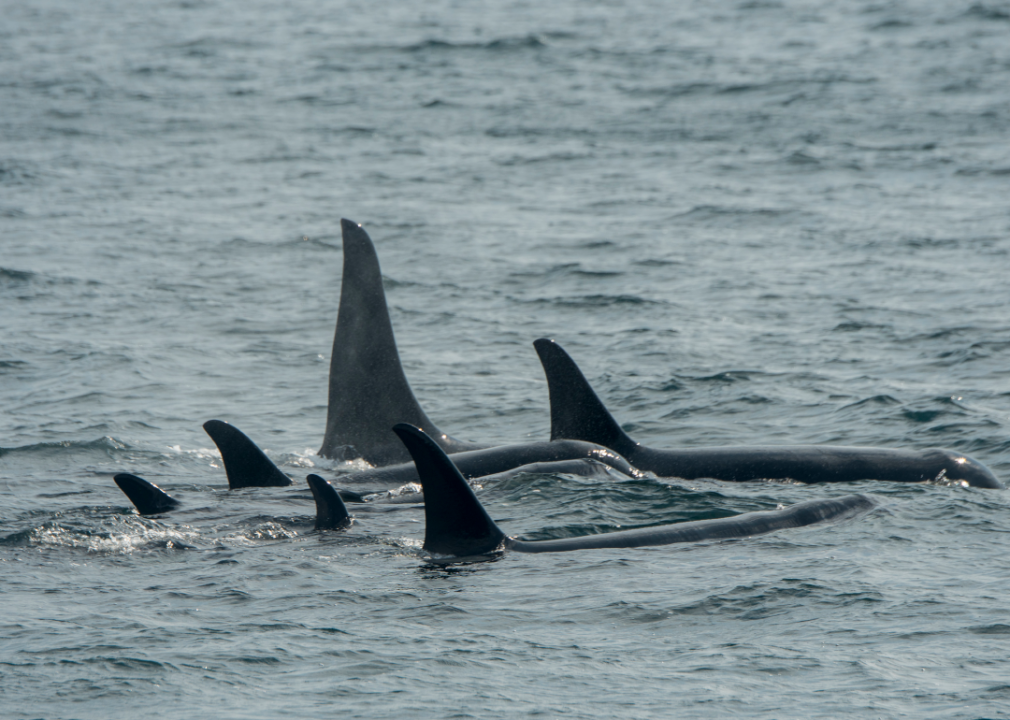 Wolfgang Kaehler // LightRocket via Getty Images
Orca pod
A pod of killer whales, or orcas (Orcinus orca), swims in Chatham Strait, Alaska, in August of 2019. These whales are considered apex predators, as they have no natural predators.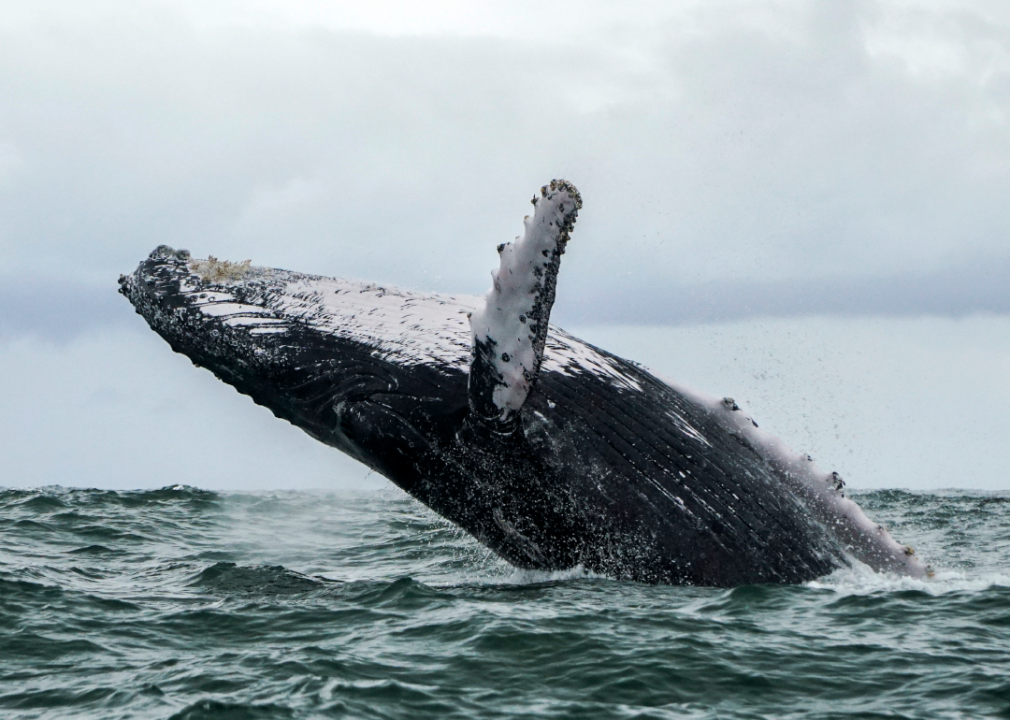 MIGUEL MEDINA/AFP via Getty Images
Humpback whale migration
A humpback whale is spotted here on Aug. 12, 2018, at the Uramba Bahia Malaga National Natural Park in Colombia. The whales migrate each year from the Antarctic Peninsula to the Colombian Pacific Ocean coast to give birth and nurse their young. Humpback whales can live to about 50 years of age, growing to almost 60 feet long.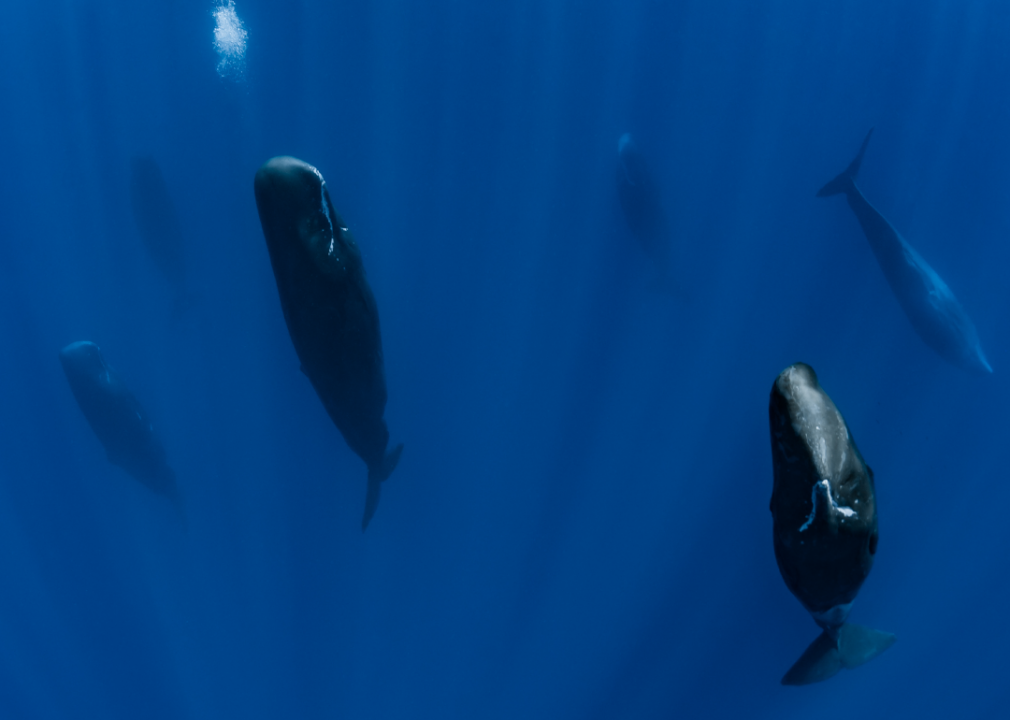 Alexis Rosenfeld // Getty Images
Sleeping giants
The sperm whale (Physeter macrocephalus) lives in every ocean and most of the seas in the world, with the males also traveling into the icy depths of the Arctic and Antarctic. This photo shows a group of sperm whales in the sleeping phase in a position called candle in Mauritius Island, Indian Ocean.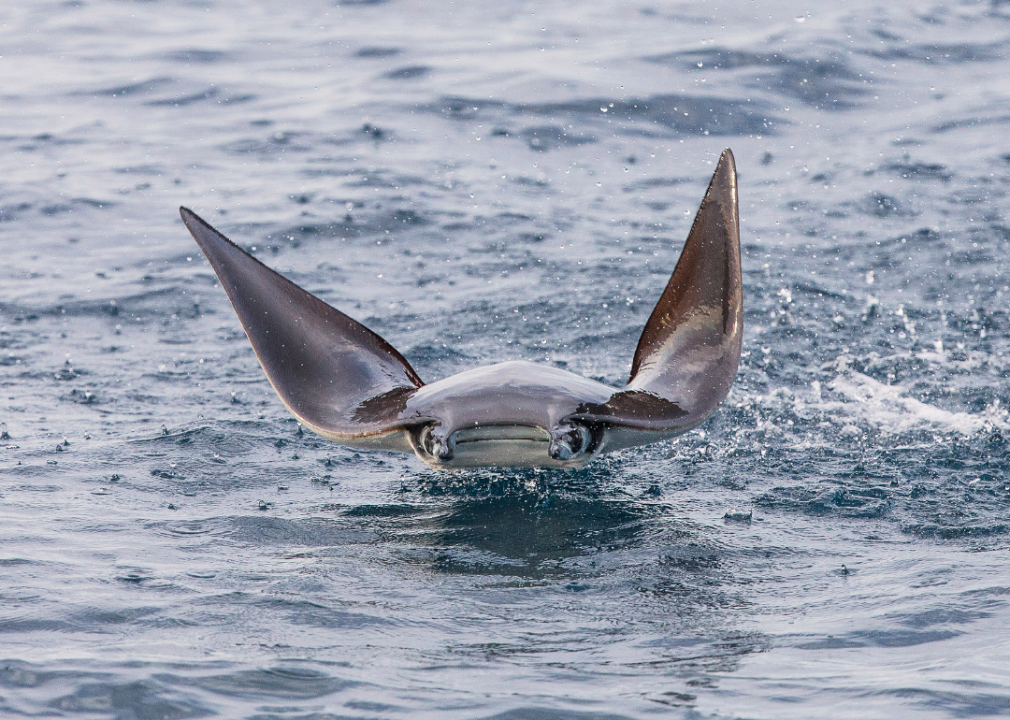 Mark Carwardine // Barcroft Media via Getty Images
Jumping Stingray
Mobula rays are adept swimmers that are equally as comfortable gliding through the air, hence their nickname: flying rays. This photo, taken in Baja, Mexico, shows a mobula ray in flight. The rays, known to local fishermen as flying tortillas, measure just over three feet in width and jump over the water at a height of about 6 feet.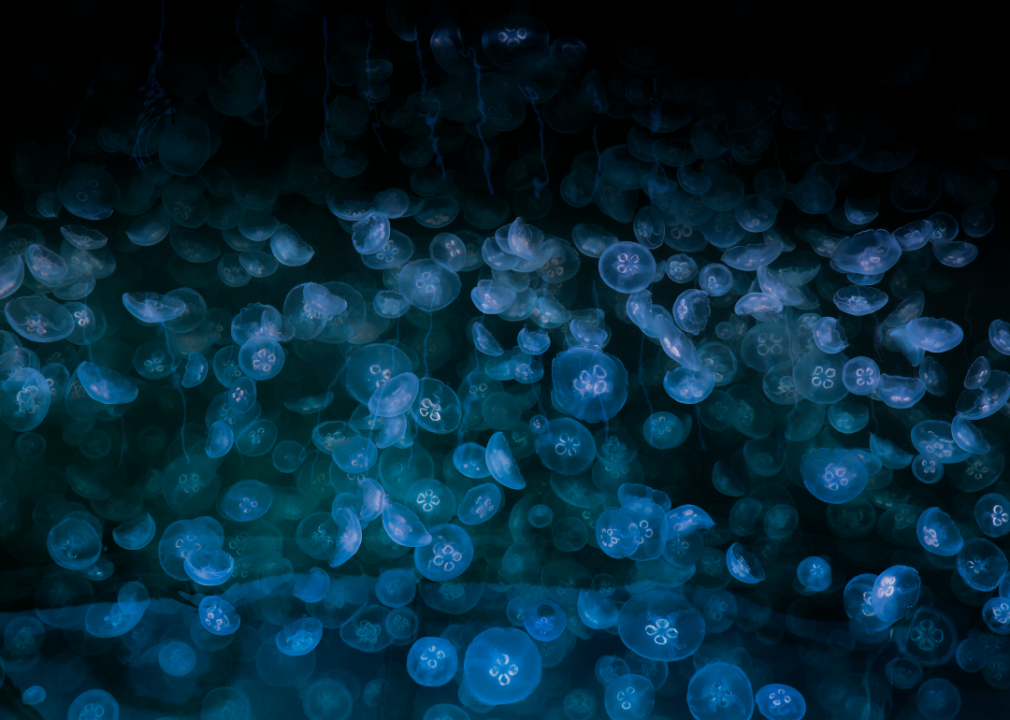 Steve Christo/Corbis via Getty Images
Bloom of moon jellyfish down under
Warming oceans are a contributing factor to rising numbers of moon jellyfish blooms such as this example in the harbor of Sydney, Australia, in January 2019.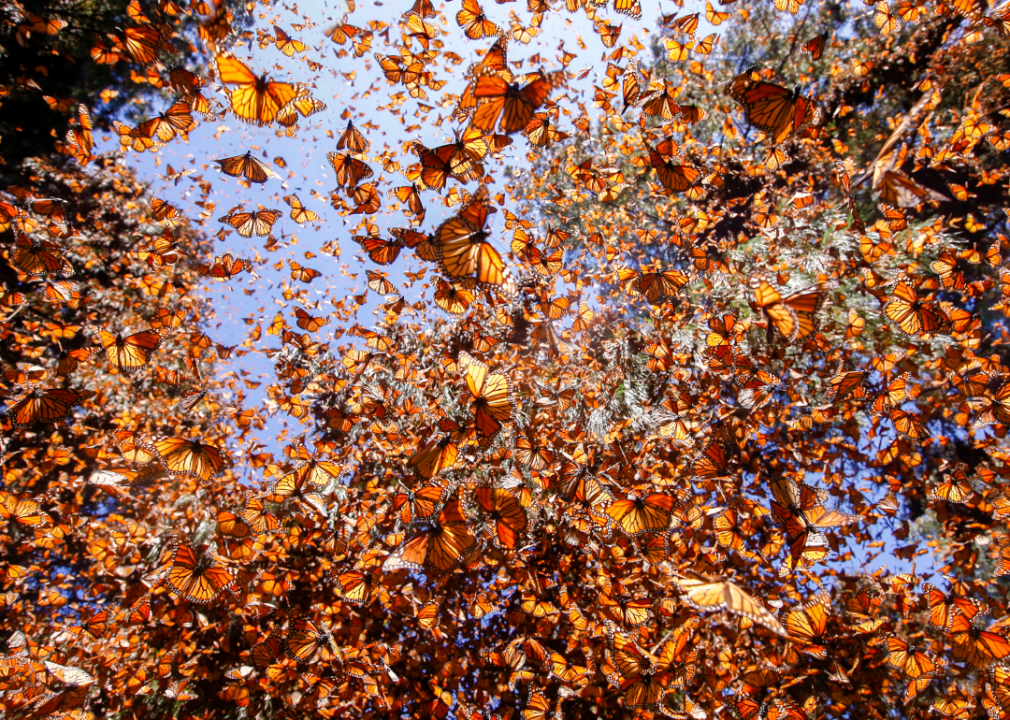 Sylvain CORDIER/Gamma-Rapho via Getty Images
Migrating monarchs
The North American monarch butterfly, with a wingspan of 3.7 to 4.1 inches, migrates south from Canada and the U.S. in the summer to the California and the mountains of central Mexico in the winter: a distance spanning several thousand miles. The Monarch Butterfly Biosphere Reserve World Heritage Site northwest of Mexico City is home to millions of wintering monarchs.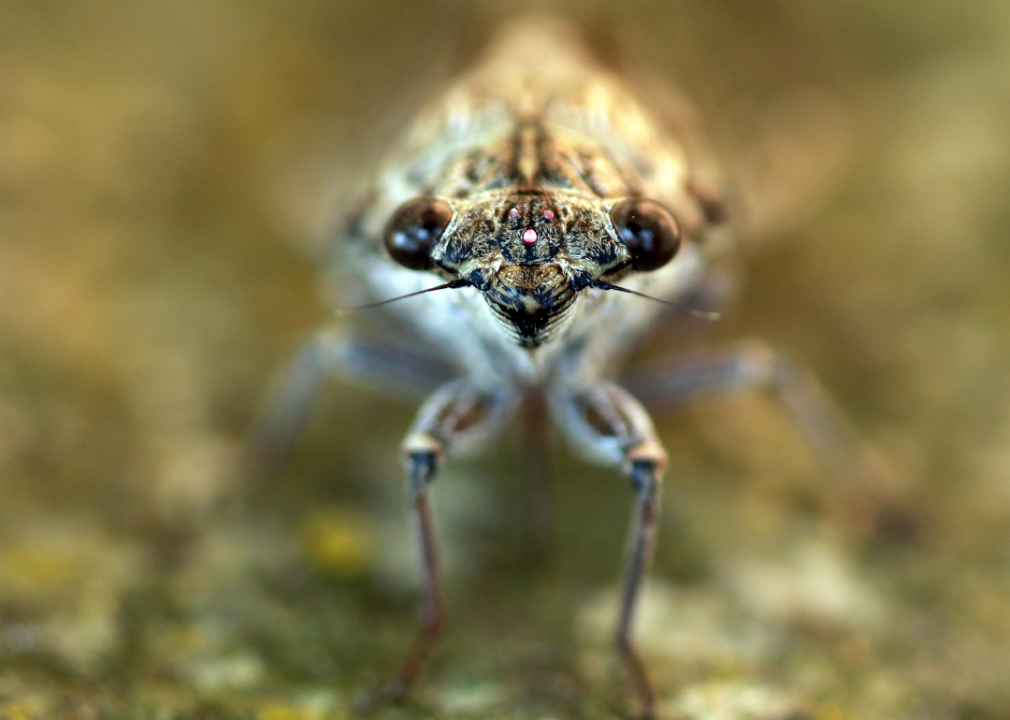 Lokman Ilhan/Anadolu Agency via Getty Images
Cicada symphony of summer
A cicada bug, longtime symbol of hot summer days, is seen in this photo on a tree in Izmir, Turkey on July 18, 2020. Cicadas have a very long lifetime of up to 17 years.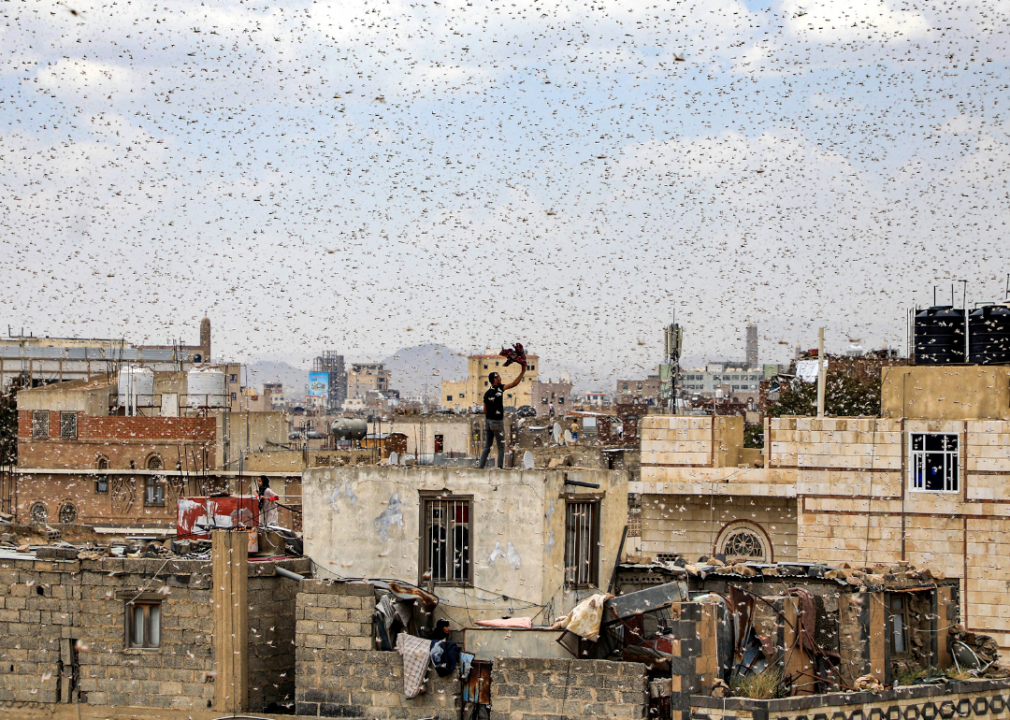 MOHAMMED HUWAIS/AFP via Getty Images
Plague of locusts
Plagues of locusts have been spotted along East Africa in the most significant numbers in decades. They have decimated crops for farmers and can create massive food shortages that can lead to starvation for communities around the globe.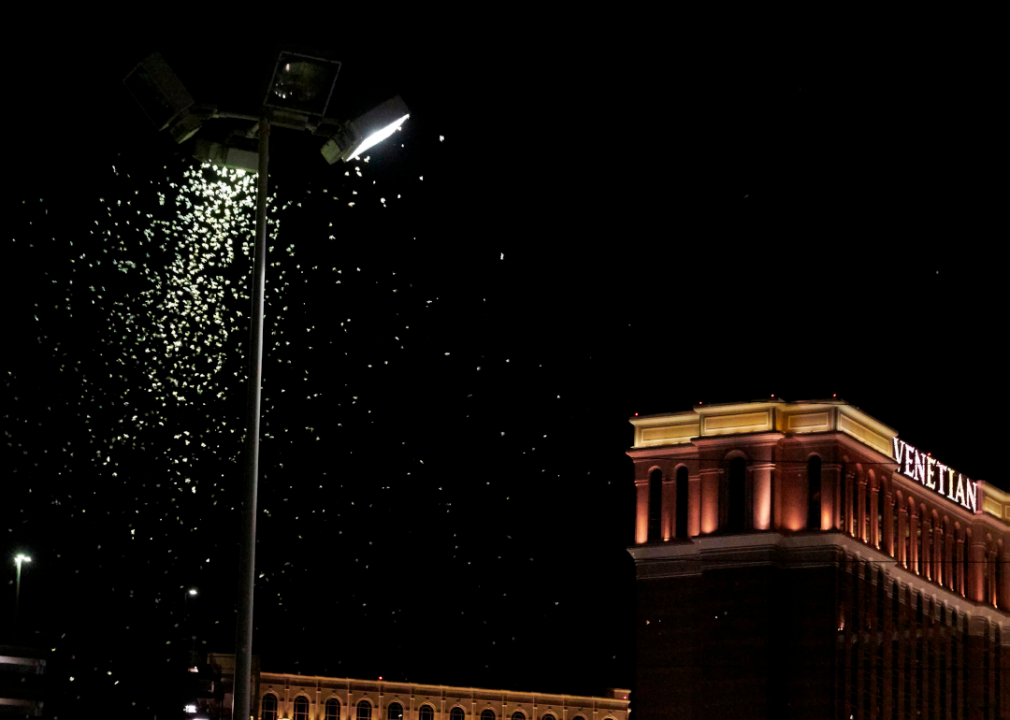 BRIDGET BENNETT/AFP via Getty Images
Grasshoppers in Las Vegas
Massive swarms of pallid-winged grasshoppers descended on Las Vegas during the week of July 26, 2019.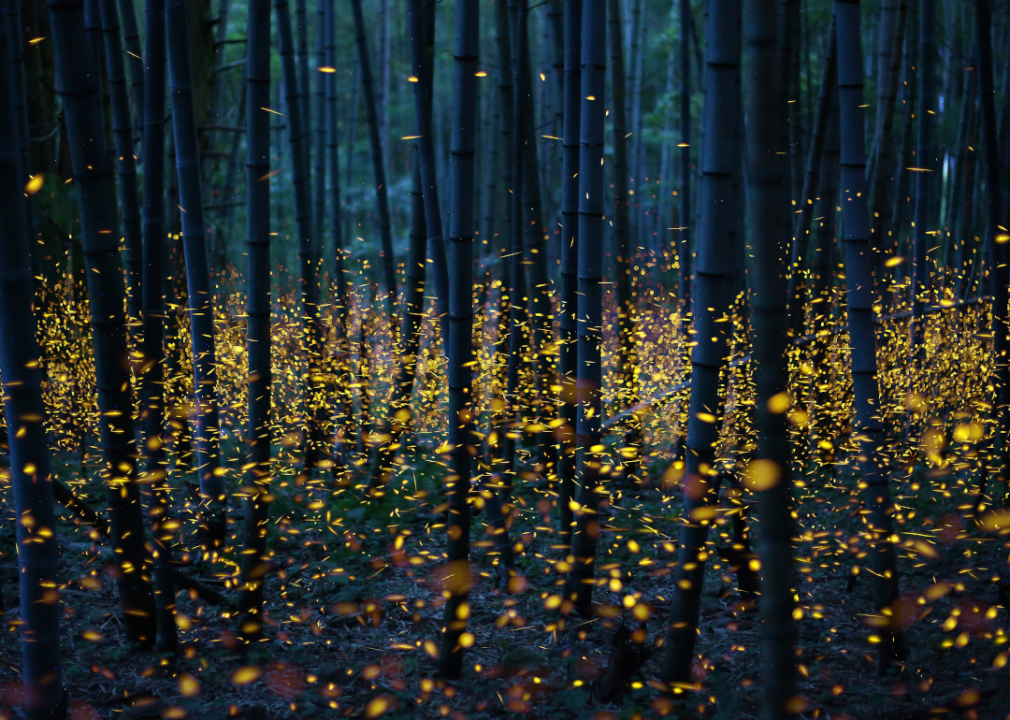 Kei Nomiyama // Barcroft Media via Getty Images
Enchanted forest
Fireflies are plentiful in the Japanese forests of Shikoku Island, reaching their peak numbers during the country's rainy season between May and June. The fireflies live just two weeks as adults.